General Motors says Mary Barra will be paid $14.4m this year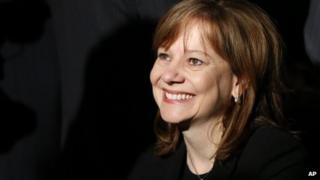 General Motors (GM) announced plans to pay boss Mary Barra $14.4m (£8.8m) this year, 60% more than her predecessor, Dan Akerson, who was paid $9m in 2012.
GM had previously said Ms Barra would be paid $4.4m in cash and stock this year, but that figure did not include long-term compensation.
The disclosure comes after the firm had been criticised by some for underpaying Ms Barra for her gender.
GM released the salary number "to correct misperceptions".
"As a new CEO, Mary's total compensation is in line with her peer group and properly weighted so that most is at-risk," said GM board chairman Tim Solso in a statement.
"The company's performance will ultimately determine how much she is paid."
The compensation is subject to shareholder approval at GM's annual meeting in June.
Ms Barra took over the helm of the US's largest car firm on 15 January, after Mr Akerson stepped down to take care of his ailing wife.
She is the first female boss of a major car manufacturer.