Network Rail agrees plan to improve rail punctuality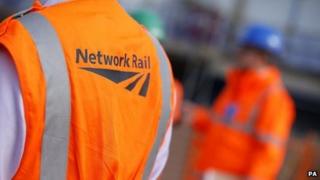 Network Rail has agreed to a five-year plan from regulators that aims for an improvement in train punctuality.
The programme also includes a commitment to try to bring down the costs of running the railways by 20% in the five years from April.
Network Rail owns and operates Britain's rail infrastructure.
It has also agreed to improve lines, stations and safety for passengers and workers.
"The railway is a complex, long-term, critical element of Britain's infrastructure and needs sustained, high levels of investment if we are to meet the public's rapidly increasing appetite for rail travel, and businesses' desire to move freight off congested roads," said Sir David Higgins, chief executive of Network Rail.
In November, Network Rail admitted that performance had "fallen behind" as it struggled to get "more and more out of an ever-overloaded network".
'Fresh start'
Network Rail has been set a target of running 90% of trains on time on services in London and the south east of England, as well as regional services, and trains in Scotland.
It has also been told to improve the reliability of long-distance trains or face fines of millions of pounds from the Office of Rail Regulation (ORR)
"Service standards will get better, as stations up and down the country are modernised and lines are electrified. Alongside this work, the company will also deliver more, pound-for-pound, than ever before, as it utilises new technology and better ways of working," said Richard Price, chief executive of the ORR.
"This is a fresh start for the company and an opportunity - supported by significant levels of funding by governments and passengers, and working with the rest of the industry - to learn lessons and build on successes from the past.
"Meeting these challenges will be tough, particularly in the early years for punctuality in England and Wales."