Barclays releases profit figures a day early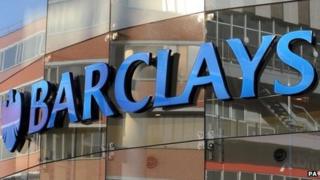 Barclays has taken the unusual step of releasing its headline profit figures a day early, after deciding to "provide clarity" following a media report.
The bank's pre-tax profits for 2013 rose to £2.9bn, while adjusted pre-tax profits fell to £5.2bn.
Barclays was due to release the figures on Tuesday, but felt that a Financial Times report previewing the numbers was too close to the actual figures.
Listed firms must abide by strict rules on releasing market sensitive data.
Although Barclays gave no reason for the early release in its announcement to the London Stock Exchange, the bank explained to the BBC later that the FT's story "was close enough, and so it was felt that we needed to provide clarity".
Full details of the bank's financial figures for 2013 are due at 7:00 GMT on Tuesday.
Bonuses
Barclays is also expected this week to confirm its overall bonus payments for 2013, and could face questions over possible job cuts in its investment bank.
Barclays chief executive Antony Jenkins sought to head off criticism over the amount the bank is paying out in bonuses when he waived his annual bonus for 2013, which could have been worth up to £2.75m.
The bank paid out £2.17bn in total incentives in 2012, including a £1.85bn bonus pot, and is reportedly planning to pay out up to £2.4bn for 2013.
As Barclays has cut at least 1,800 jobs in its investment bank already, this would mean higher average bonuses for each member of staff.
It is already reported to be planning to axe several hundred jobs at a senior level in its investment banking business, as well as ordering staff to cut out all non-essential overseas travel to reduce costs.
The group could also be pressed on branch closures, in spite of its denial of recent reports that up to a quarter of its 1,600 sites in the UK could close.
Mr Jenkins said at last year's results that at least 3,700 jobs were being cut and revealed in shareholder meetings last March that the bank was considering using automation to cut its workforce further.