Nissan profits beat estimates as weaker yen helps sales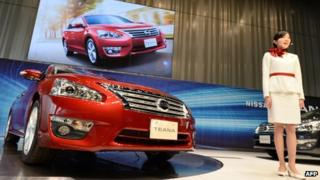 Nissan has reported better-than-expected profits, helped by the weakening yen and by a recovery in sales in China.
Japan's second-biggest carmaker said profit rose 57% to 84.3bn yen ($825m; £503m) for the last months of 2013, beating analysts' estimates.
It also sold a record 5.1 million vehicles globally last year.
The positive results come three months after the company cut its full-year profit outlook by about 20%.
Nissan president and chief executive Carlos Ghosn said earnings had been lifted by growing demand for new models in several key markets.
"Sales in Japan and North America helped offset emerging market volatility and sluggish conditions in Europe," he said in a statement.
"Based on its strong product line-up and current market demand, Nissan is maintaining its full-year earnings guidance."
Nissan's new car models include the updated Rogue small sport utility vehicle and the Cummins Diesel powered Frontier truck.
Key changes
Mr Ghosn has focused on improving sales in China, the world's second-largest car market.
Nissan saw revenues decline in China in 2012 after a territorial dispute between China and Japan led to a consumer backlash and broad boycott of Japanese goods.
However, its car deliveries to China have since recovered and rose to 1.27 million units last year, making Nissan the largest Japanese automaker there by volume.
Japanese carmakers such as Nissan, Toyota and Honda have also benefited from an aggressive set of economic policies initiated by Japanese Prime Minister Shinzo Abe.
A combination of higher spending and low interest rates have helped weaken the value of the Japanese currency, which makes the country's products cheaper and more attractive abroad.
The yen fell against every major currency last year excluding the South African rand, helping to push up car sales to key markets such as North America.
However, Nissan's profit gains were lower than its domestic rivals since most of its car production takes place overseas.