Energy firms' gas profit margins questioned by minister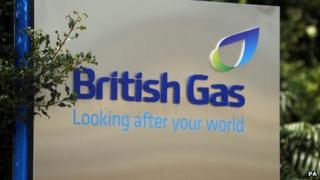 The prices and profits of British Gas have been questioned by the energy minister, who suggested it might have to be broken up.
In a letter to regulators, Ed Davey said profit margins made by the "big six" energy firms when supplying gas were higher than previously thought.
He called on regulators to study the dominance of British Gas, which said it would participate in any discussions.
The company's owner, Centrica, saw its shares fall by 1.7% to 308.9p.
Mr Davey wants a market investigation, pointing out that British Gas had charged among the highest prices to domestic customers in the past three years. If regulators found evidence of a monopoly, this could see a company being broken up.
British Gas currently has 41% of the domestic gas supply market, the largest share of any of the big six. It said the data highlighted by Mr Davey had already been fully disclosed.
'Think radically'
The energy secretary has asked the competition authorities to investigate the profit margins as part of an ongoing review.
He has written to the energy regulator, Ofgem, as well as the Competition and Markets Authority, asking them to consider all possible remedies "including a break-up of any companies found to have monopoly power to the detriment of the consumer".
Mr Davey told the BBC: "This is a significant issue for consumers out there who are struggling with their energy bills."
He said he wanted to make it easier for the consumer to switch supplier, highlighting the 15 independent suppliers that currently challenge the big six.
Mr Davey said he wanted regulators to "think radically", in respect to a possible break-up of the big six, adding it was "not for a minister" to break up companies.
A lack of transparency had been a problem in deciphering the energy companies' cost margins to date, he said.
The cost of energy has been a big debate since Labour leader Ed Miliband pledged to freeze energy prices for 20 months if he were elected.
Jonathan Reynolds, shadow energy and climate change minister, said: "This government has let the energy companies get away with increasing their profits on the back of spiralling bills for hard-pressed consumers.
"If the government wants to be taken seriously on energy bills, nothing less than a price freeze and action to stop these firms from overcharging in the future, as Labour has proposed, will do."
A series of above-inflation price rises by the major energy suppliers has also sparked consumer anger.
Last year, the government changed its plan for a green levy on the industry in order to persuade the major energy companies to reduce proposed increases in tariffs.
'Monopoly position?'
Mr Davey said that so far the debate on energy prices had centred mainly on the electricity market, but that gas accounted for two thirds of an energy bill for most households.
"Analysis of the profit margins of the energy companies shows that the average profit margin for gas is around three times that of electricity," his letter says.
"There is also evidence that British Gas, the company with the largest share of the gas domestic supply market, has tended to charge one of the highest prices over the past three years, and has been on average the most profitable," he adds.
And in an accompanying analysis note he says: "Does this indicate that British Gas has a strong monopoly position which enables it to generate high profit margins?".
Mr Davey estimates that if margins in gas were similar to electricity, the average saving per household could be up to £40 a year.
In its statement, British Gas said: "There is an ongoing independent market assessment being conducted by the Office of Fair Trading, Ofgem and the Competition & Markets Authority.
"The data referred to in the Secretary of State's letter has already been fully disclosed and in the public domain for a number of weeks."
Later it added that customers were free to move suppliers, and four out of five British Gas customers had switched their tariff or supplier at least once.
"About two thirds of British Gas customers are dual-fuel customers, taking both gas and electricity, and the price of the gas is the same for all customers whether they are a gas-only customer or on a dual-fuel tariff. British Gas' profit margins are on average 5% after tax," said British Gas director Chris Weston.
"Our parent company Centrica does more than any other organisation to secure gas and power for British customers, with commitments totalling more than £60bn, and we can only shoulder responsibilities on this scale if we are a profitable business."
Centrica saw its share price fall by 3% in early trading on Monday - the biggest early faller in the FTSE 100 in London - before recovering slightly later.
'Hugely significant'
The BBC's John Moylan said that, given that the information had been publicly available for months, it raised questions as to why the regulator, Ofgem, had not acted already.
The regulator said that it was already looking into competition issues and would not say any more until that work was done. The findings are expected in March.
"Ofgem is currently working with the Competition Market Authority and Office of Fair Trading on an independent annual report looking at the state of competition in the energy market," a spokeswoman said.
"We will be looking at all available evidence when producing this report, until we have completed it we will not comment further."
Richard Lloyd, the executive director of the consumer rights group Which?, said the intervention was "hugely significant" and that it implied that Ed Davey agreed with Which? "that the structure of the biggest energy companies is partly to blame for the price hikes that millions of squeezed customers have been struggling with."
"It will now put huge pressure on the regulators, in a matter of weeks, to announce that they're taking the first steps towards potentially breaking up the very biggest of the big energy companies," he added.
Tables accompanying Mr Davey's letters show that Centrica, which owns British Gas, saw profit margins of 11.2% for its gas business in 2012 and a 41% share of the gas market.
SSE also has a high profit margin of 11.4% but a much smaller market share; therefore this was not seen as such a problem.
A spokesman for the company said: "SSE expects that it should make an average profit margin in energy supply of 5% over the medium term.
"In recent years our accounts show that we have made less than that. Profit margins from supplying gas, in particular, can be heavily influenced by the weather in any given year, as abnormally cold temperatures can increase the amount customers use."
Rival EDF made a 4.1% loss on gas in 2012.
The analysis compares this with the profit margins of supermarkets, which typically range from 3.5% to 5%.