Business optimism highest for 22 years, says BDO survey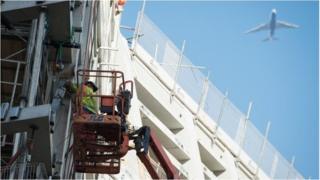 Business optimism in the UK is at its highest level in 22 years, a survey by business consultants BDO has found.
The monthly report incorporates results of surveys from the CBI, the Bank of England's Agents and data from business information providers, Markit.
BDO said its optimism index, which predicts performance two quarters ahead, pointed to further improvements in the next six months.
It is the latest in a string of reports pointing to a strengthening recovery.
Last week, the National Institute of Social and Economic Research think tank, forecast the UK economy would grow by 2.5% this year, saying the recovery had become "entrenched".
Other forecasters, including the Office for Budget Responsibility, the International Monetary Fund and the Organisation for Economic Co-operation and Development have all become increasingly optimistic about the UK's economic prospects.
Muted pressures
BDO said the improving mood pointed to further falls in unemployment, with businesses' hiring expectations at their strongest since August 2008.
The latest figures showed unemployment fell to a rate of 7.1%.
A strengthening economy can lead to higher inflation, which can usher in higher interest rates to combat it.
But BDO said its survey suggested inflation pressures were muted, with its inflation index at its lowest level since November 2009.
There were few signs that wages would start to recover, with wages growth running at 0.9% last year, well under the rate of inflation.
Peter Hemington, a partner at BDO, said: "An interesting feature of the recovery so far has been the way in which UK productivity remains at levels last seen in late 2005. Looking at this optimistically, this means that the UK can continue to grow for some time by increasing productivity before wage-related inflationary pressures begin to kick in."
The findings echo those of a survey last week from the accountancy industry body, the ICAEW, which recorded its highest reading yet.
However, ICAEW also said there were concerns about the structure of the economy as export growth had failed.