Singapore Airshow: The race to become the world's best airport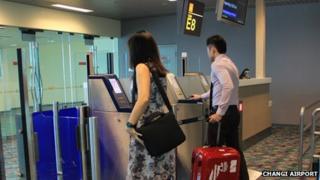 Among the things that people dislike about travelling, queuing up at airports is arguably the most common.
Luckily for passengers travelling through and from Singapore, the city-state's airport realises this and says its new terminal will tackle the problem.
Changi airport's Terminal 4 will not only have automated self-check-in facilities, but passengers will also be able to tag and drop their bags themselves and there will be self-boarding gates - all aimed at cutting waiting times.
"We want to offer a stress-free and smooth experience to those going through Changi," says Tan Lye Teck, executive vice president of Changi Airport Group.
And the airport has a lot to gain from travellers in a happier mood.
"Shorter time spent in queues means passengers will have more time to spend in retail outlets," Mr Tan adds.
Last year, passengers spent 2bn Singapore dollars ($1.6bn; £955m) at retail outlets inside the airport.
Economic impact
And it is not just about keeping the travellers happy. A good airport, or the lack of one, can also have a big impact on a country's economy.
To begin with, an airport capable of handling large numbers is key to boosting tourism - a big driver of the economy in the case of Singapore and other countries in the region.
Marc Kramer, senior vice-president at HVS Global Hospitality Service, says the number of arrivals is a key area the consulting firm looks at when advising clients on potential investments.
"Airport arrivals are a key gauge for us to ascertain the strength of a destination's economy and growth in demand for hotels in the area," he told the BBC.
Singapore's airport handled more than 50 million passengers last year and with the new terminal it will have the capacity to handle a further 16 million.
The ability to handle large numbers of arrivals is also important to business travel and the catchily named meetings, incentives, conventions and exhibitions (Mice) sector.
Stopover of choice
Changi airport has also introduced more and more technology over the years to woo passengers.
A mini-cinema, swimming pool, free massage chairs and even a butterfly garden are just some of the facilities it has put in place.
Analysts say this push to become a leading airport is also driven by the desire to become a regional hub, and Singapore is not the only airport in Asia aiming to do this.
An increasing number of people from Asia are travelling to the West and vice versa. At the same time, there is a growing trend of airlines cutting down on really long flights and opting to offer two relatively shorter ones to connect cross-continental destinations.
As a result, major airports are vying to become the stopover destination in the hope that transit passengers will further help boost the economy.
Singapore's airport already offers free city tours to passengers who are in transit for more than five hours.
"Once you are there - you are going to spend some money and contribute to the economy," says David Kuo from the financial website the Motley Fool.
"But how successful a regional hub you become is dependent on what services you can offer to make the transit experience better."
'Intense' race
And the competition is heating up, with passengers having multiple options to choose from when it comes to breaking their journeys.
Bangkok, Hong Kong and Kuala Lumpur airports are all looking to become key transit points.
There is also growing competition from Dubai and Doha in the Middle East, not least because of the aggressive growth of the region's airlines such as Emirates, Etihad and Qatar Airways.
Elsewhere, Indonesia is opening a new airport in Bali, while China is set to expand the total number of airports in the country to 230 in 2015 from 175 in 2010.
Meanwhile, India has got private firms involved in developing and running airports in major cities to improve its infrastructure. It has set a target of having 500 operational airports by 2020.
Given the competition, it is hardly surprising that airports such as Singapore's Changi are looking at the most minute details to improve the passenger experience.
"The race is so intense that airports have to create something that strikes a chord with travellers," says Shashank Nigam, chief executive of consulting firm Simpliflying.
"Travellers are looking for something more than just a transactional experience, they want something more emotional."
And if there's one thing that's going to get air travellers' emotions running high, it's long queues at the airport.