Labour promises 0.5% cap on pension charges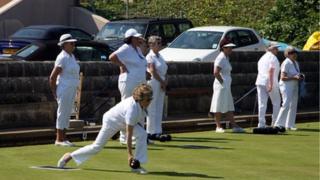 Labour has promised to put a 0.5% annual cap on pension charges if it wins the next election.
It said the limit on management charges would be 0.75% to begin with, but that would be reduced within the lifetime of a parliament.
It has also confirmed that workers buying an annuity with their savings would have to be referred to a broker for impartial advice.
The government has already promised to introduce a cap in 2015.
Labour said that pensioners, by shopping around when buying an annuity, an income for life, could get up to £400 a year extra.
Quoting figures from the House of Commons library, it said that even those with small pension pots of £15,000 could be £173 a year better off.
Delay
"Rip-off pension fees and charges are costing savers thousands of pounds," said Rachel Reeves, Labour's shadow work and pensions secretary.
"An astonishing £1bn a year is lost because people aren't offered the best deal when they approach retirement," she said.
The Conservatives said the proposal was another sign of Labour "taking hardworking people's private pensions".
A spokeswoman said: "Labour are prepared to cut the basic state pension and they have no long-term economic plan to secure Britain's future.
"They would make people's retirement less secure all over again."
The government has already promised to cap pension charges, but has delayed implementation until April next year.
It has not yet decided how low the cap should be, but it has also been considering 0.75%.
Figures from the Department for Work and Pensions (DWP) have suggested that workers paying charges of 1.5% a year face losing up to £230,000 from their pension pots.
Steve Webb, the pensions minister, has already promised a "full frontal assault" on charges.
But, announcing the delay last month, he said it was only fair to give employers a full year's warning about the changes.
Code of conduct
Some in the industry have expressed concerns that a cap would, in effect, become a new minimum charge.
In many cases, charges are already lower than the potential cap.
The Association of British Insurers (ABI) says a typical new scheme costs 0.52% and a study of auto-enrolment pensions by the Office of Fair Trading (OFT) found average management charges were 0.51%.
Some, particularly older schemes, charged more than 1%, and a handful charged above 2%.
Under the industry code of conduct, pension providers are already obliged to give information packs to consumers to help them decide which annuity to buy.
The Financial Conduct Authority is also investigating how much difference it can make if people shop around for an annuity.
Huw Evans, from the ABI, said a charge cap was unnecessary as workplace pension charges were already at their "lowest-ever level and have been falling for over a decade".
"Insurers have led the way in recent years in helping annuity customers understand the importance of shopping around by publishing their rates and changing the way they communicate in the run-up to retirement." he added.