Ford workers vote against strike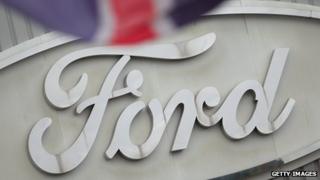 Workers at the car maker Ford have voted against strike action in a dispute over job security and pensions.
A spokesman for the trade union Unite said: "Workers have exercised their democratic rights and have chosen not to pursue industrial action."
"However, over 1,500 workers voted for action and the company cannot just dismiss their concerns," he added.
Of the union members who took part in the ballot, 59% voted against with 41% voting in favour.
Unite now plans to meet representatives from Ford for further talks.
The strike ballot was over union demands for commitments to job security and improvements in the pension scheme.
Unite has previously claimed that "Ford workers in the UK are always on the frontline when the company wants to axe staff".
Ford's hourly paid workers, mainly production line staff, were balloted at the company's six UK sites: Bridgend, Daventry, Halewood, Dunton and two sites in Dagenham.