Individual insolvencies at lowest for eight years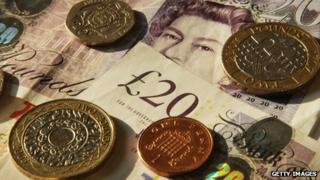 The number of individual insolvencies in England and Wales fell to its lowest level in eight years in 2013, according to government figures.
In total 101,049 individuals became insolvent last year, the lowest number since 2005.
On the corporate side, 14,982 companies went into liquidation, the lowest since 2007.
However, the figures are still considerably higher than they were before the financial crisis.
Warning
The number of individuals becoming insolvent in 2013 fell by 8% compared with 2012, while the number of companies going out of business fell by 7.3%.
One reason for the reduction in individual insolvencies has been the fact that consumers have found it harder to borrow money in the first place.
"It's a combination of the fact that consumer lending has been subdued for the last five years, together with forbearance on credit cards," said Mark Sands, of the insolvency experts, Baker Tilly
Experts warn that the situation could change when interest rates start to rise.
The Bank of England has held its benchmark interest rate at the record low of 0.5% since March 2009. However, the increasing strength of the UK economy has led many economists to bring forward their expectations of when rates will start to increase.
"For me, the acid test for personal insolvency will be when the Bank of England starts to raise interest rates and people's mortgage payments follow suit," said Bev Budsworth, managing director of Debt Advisor, an insolvency practitioner.
Analysts also noted that companies have enjoyed something of a golden period, with low interest rates, and banks being sympathetic to cash flow problems.
"These are the best insolvency figures we've seen in a while," said David Birne, insolvency partner at chartered accountants HW Fisher. "But with many of Britain's businesses still just 'hanging on', thousands of our weaker firms are far from out of the woods yet."
"Sooner or later, interest rates will rise and bank forbearance will end - and when that happens the weaker firms will be in serious trouble," he added.
True scale 'hidden'
While it welcomed the figures, the trade body for insolvency professionals, R3, said they underestimated the true picture.
New informal debt agreements, known as Debt Management Plans (DMPs), are not included in the statistics.
"Until the government begins to monitor new DMPs, the true scale of personal insolvencies in England and Wales will be hidden," said Giles Frampton, R3's vice president.
He also said many people who hung on to avoid insolvency at Christmas time could be included in the next set of figures.
"Many people will have done their best to avoid insolvency in the run-up to Christmas, so there will be fallout from that in January and February," he added.