UK trade deficit narrows but manufacturing weakens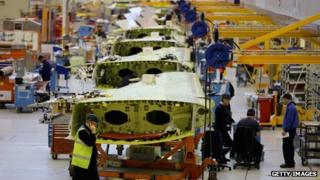 The UK's trade deficit narrowed in December to its smallest since July 2012, but manufacturing growth was weaker than expected, Office for National Statistics (ONS) figures show.
An increase in oil, chemical and aircraft exports helped the trade deficit in goods to fall by more than £2bn to £7.72bn, the ONS said.
Fewer imports of aircraft and ships also boosted the figures, it said.
Manufacturing output rose by 0.3% in December, less than the 0.6% predicted.
The wider measure of industrial output rose by 0.4% in the month.
However, the ONS said the weaker-than-expected growth was not enough to change the estimate of GDP growth in the fourth quarter of 2013, which was 0.7%.
When services were included, the overall trade deficit narrowed to £1bn in December. This was down from a deficit of £3.6bn the month earlier and also the smallest deficit since July 2012.
'Even picture'
Despite the weaker-than-expected manufacturing figures, Lee Hopley, chief economist at the EEF manufacturers' organisation, remained upbeat.
"Manufacturers had a strong finish to 2013, but more encouraging, are the indicators we've seen since the start of the year which suggest that positive trend has rolled into the early part of 2014.
"Our expectation is that we see another quarter of 0.6% expansion in the three months to March, with a pretty even picture across sectors.
Ms Hopley added that export demand would "gather pace" through the year, and the official data would follow.
The UK's economy grew last year at its fastest pace since 2007, expanding by 1.9%.