ArcelorMittal steel giant 'optimistic' about 2014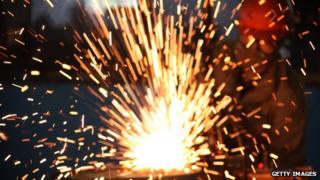 ArcelorMittal, the world's biggest steelmaker, has forecast higher profits this year, driven by stronger sales in the US and Europe.
Despite forecasting slower sales in China and Brazil, the company's chief executive Lakshmi Mittal said he was "cautiously optimistic" about 2014.
Arcelor makes more than 5% of the world's steel, and is seen as a barometer of manufacturing's health.
The company also said on Friday that capital spending would rise in 2014.
The construction sector is the single biggest user of steel, and economic surveys suggest that building activity is picking up, especially in the US.
Mr Mittal said: "The improvement in the overall economic situation led us to re-start some selected steel growth projects."
Shares in Arcelor, which is based in Luxembourg and operates in 60 countries, were up more than 4% in early trading.