Networking site LinkedIn shares fall 15% on weak outlook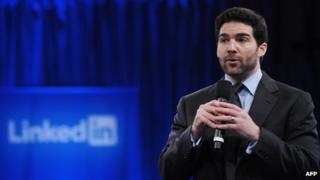 Shares in professional networking service LinkedIn slumped by as much as 15% in after-hours trading after it posted a weaker-than-expected outlook.
LinkedIn expects first quarter revenue of up to $460m (£282m), which is below analyst projections for $469m.
The company has also seen sales growth slow for the fourth straight quarter.
Its poor showing comes after Twitter saw a steep sell-off in its stock following its disappointing first public earnings report.
LinkedIn chief executive Jeff Weiner said the company is currently looking for new sources of growth.
"We are investing significantly in a focused number of long-term initiatives that will allow us to realize our vision to create economic opportunity for every member of the global workforce," he said in a statement.
The California-based company also plans to further develop its mobile application and strengthen its jobs vacancy business.
About one quarter of LinkedIn's traffic now comes from mobile devices.
Mr Weiner also said they plan to expand into China, the world's most populous country, and recently appointed a new executive to head operations there.
LinkedIn is the only major US social network not blocked in China.
New purchase
LinkedIn also announced on Thursday that it had bought data analytics company Bright Media for about $120m.
Bright Media is a two-year-old start-up which uses algorithms to match job candidates with prospective employers.
Its founder Eduardo Vivas said in a statement that they were excited to join LinkedIn.
"The company shares a similar vision and is equally obsessed about using data and algorithms to connect prospects and employers," he said.
LinkedIn makes the most of its money from selling service subscriptions to job recruiters, who use the website as a database for potential candidates.
Many other social networking sites such as Twitter and Facebook depend on advertising sales.
LinkedIn shares have surged almost fivefold since it went public in the US in mid-2011.