News Corp profits beat estimates despite advertising fall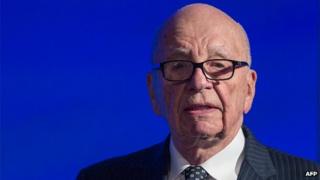 Rupert Murdoch's News Corp has posted better-than-expected profits, even as advertising revenues continue to fall at its newspaper businesses.
Net income was $151m (£93m) in the quarter ending in December, which was higher than analyst estimates.
Revenue fell by 4% to $2.24bn, largely due to reduced advertising sales at the media company's Australian newspapers.
News Corp's chief executive Robert Thompson described the advertising market as "challenging".
"We are continuing to be disciplined on costs, while making opportunistic investments that will extend our revenue reach," he said in a statement.
"The digital transformation is certainly underway, as the acquisition of Storyful and the robust growth in digital sales at HarperCollins attest."
Shares of News Corp rose by as much as 5% in after-hours US trading following its earnings announcement.
Media empire
This is the second time News Corp is reporting results since splitting its publishing and entertainment divisions into two separate companies in June last year.
The publishing conglomerate owns a stable of titles including the Wall Street Journal, New York Post and Times newspaper in the UK.
It also has a loss-making education business Amplify and Australian cable television operations.
Under its entertainment arm, News Corp owns the 21st Century Fox film studio and television channels.
However, it was its book publisher HarperCollins that contributed most strongly to News Corp's bottom line.
Sales of the "Divergent" teen novel series by Veronica Roth and "The First Phone Call from Heaven" by Mitch Albom helped lift HarperCollins revenues 4% higher to $14m.
Australian newspaper revenues were the biggest drag on profit - they fell by 17%, of which 10% was due to the impact of the stronger Australian dollar.
Lower revenues at Dow Jones, its financial news and information service, were also cited as a source of weak performance.
Changing landscape
An increasing number of people are consuming their news on the internet, instead of through traditional forms such as newspapers, television and the radio.
Media outlets such as News Corp have been struggling to adapt to the changing consumer landscape.
As part of this shift, News Corp bought Dublin-based social media news agency Storyful for $25m last December.
It has also experimented with charging readers for access to their website articles, and recently raised the subscription prices for the online version of the Wall Street Journal.
However, the firm has yet to find success with fully monetising its online offerings, which draw lower advertising rates than its print publications.
News Corp has also been struggling with lower print circulation numbers, which it has tried to offset by raising the cover price of newspapers such as The Sun in the UK.
Overall, newspaper publishing accounts for more than 70% of the company's revenue.