High Street banks carry on cutting paper statements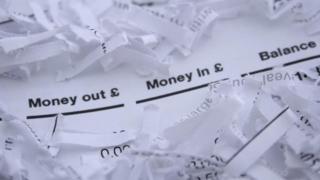 In November 2012, banking giant RBS informed seven million customers that it was cutting the frequency of paper bank statements.
It said current account holders would receive statements through the post every three months rather than monthly.
Reaction to the news from customers was divided. Some said that a monthly payments list made it easier to budget, while others suggested it was a waste of paper when it was so easy to check a bank balance online.
Commenting on the BBC News website, a reader called Steven said: "I have no desire to spend half my life on the internet, juggling between usernames and passwords. All I require is a monthly statement from all my accounts."
But Kai, who posted a response, said: "Online statements are a great idea. Since I signed up to online bank statements in 2005, I've never looked back."
Text alerts
More than a year on, RBS claims that the latter is the dominant view.
It stresses that customers can request to return to monthly paper statements without charge, but fewer than 15% have opted to since the change.
"There are so many more ways now to keep up with your finances, including mobile banking and text alerts," a spokeswoman for the banking group said.
About 29 million text messages are sent to RBS customers annually, keeping them updated about their balances.
No doubt armed with these figures from RBS, another taxpayer-backed bank - Lloyds Banking Group - has decided to embark on the same policy.
The banking group, including the Bank of Scotland, Halifax and TSB, is writing to one in five of its current account customers explaining the move to quarterly, rather than monthly, paper statements.
It says that the majority of its customers are happy with the decision, primarily for environmental reasons, with many checking balances and payments on their smartphones or online.
Vulnerable customers, such as the elderly, will still receive monthly statements, and anyone can revert to once-a-month by going into a branch or calling the bank.
But despite all these backstops, campaigners fear that there is a creeping digitalisation of bills and statements that needs to be stopped before it becomes the norm.
"A move to online-only bills is convenient for some but it should be a choice, not an automatic move," says Judith Donovan, who chairs the Keep Me Posted campaign.
"Consumers should have the right to receive all bills and statements by post, without penalty."
The Keep Me Posted manifesto argues that customers should specifically have to opt out of receiving regular paper statements, rather than have to opt back in.
Banking regulations remain marginally on the side of the campaigners.
The Financial Conduct Authority's rules state: "A firm must provide or make available to a banking customer on paper or in another durable medium such regular statements of account as are appropriate to the type of retail banking service provided."
In other words, account holders must get regular statements sent to them free, unless they sign up for an online-only account. They can also request a paper statement to be sent at any time.
Regulations are not so strict elsewhere. For example, telecoms companies charge between 99p and £1.90 for paper bills.
Among utility providers, such as energy companies, there are preferential rates available to those who choose to receive bills digitally, although an annual statement must be sent through the post.
Budgeting skills
But as technology advances, and the vast majority of people access the internet without a second thought, are campaigners simply trying to delay the inevitable?
Many arguments against digital bills and statements have been based on age and access.
During a recent House of Lords debate, Conservative peer and former consumer minister Baroness Oppenheim-Barnes said the practice was "leaving out in the cold not only the millions who do not yet have broadband but the elderly and disabled", causing them "great distress".
She says that bills and statements that arrive online "simply do not register with people in the same way".
Tech-savvy older people might not accept such analysis. Surely an elderly couple with a joint account could be equally as fed up receiving three copies of the same monthly statement through the post when they could see it on their computer at any time?
But, equally, not all young people are comfortable with online bills and statements.
Debt problems
"It is important that companies do not make sweeping assumptions about young people when designing products and services," says Tracey Bleakley, chief executive of the Personal Finance Education Group, which supports the Keep Me Posted campaign.
"Just because we live in the age of the tweet, tablet and text message does not mean that all young people prefer to manage their finances through digital communication alone."
The key, she says, is that many people of all ages find it easier to manage their money by cross-checking using a paper bill or statement.
Keep Me Posted claims that people are more likely to miss payments and get into debt problems without a paper reminder.
Mortgage applications still often require a hard copy of bank statements and nearly half the people surveyed by Keep It Posted said that their financial records would be incomplete without paper copies.
A year on since RBS decided to curtail its paper statements, the need to receive details of personal finances through the post continues to divide opinion.