General Motors annual profits fall 22% on struggles abroad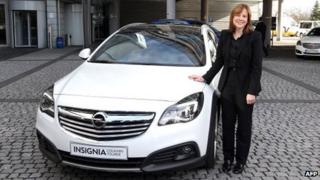 Profits at General Motors fell by 22% in 2013, after a disappointing performance outside North America.
The US car giant reported net income of $3.77bn (£2.31bn) for the last financial year, down from the $4.86bn (£2.98bn) recorded in 2012.
The company said the picture was challenging in South America and parts of Asia outside China.
GM's fourth quarter profits rose by 2% from year earlier to $913m, which was lower than analysts' expectations.
The results are the first under GM's new chief executive, Mary Barra.
International troubles
GM's chief financial officer, Chuck Stevens, said that while the outlook in Europe was improving, there were higher risks in South America because of foreign currency fluctuations, particularly in Venezuela and Argentina.
In Europe, the world's second-largest car-maker lost $800m for the full year, but that was less than half the amount if lost in 2012.
In North America, GM reported record earnings of $7.5bn for the full year, partly driven by price increases.
The company has recently lost sales of pick-up trucks to competitors Ford and Chrysler, who have increased discounts on their models.
However, Mr Stevens said GM would stick to its approach of selling cars and trucks on value, rather than price. "What we want is profitable growth," he said.
Outside North America and Europe, GM's results were weaker than a year ago. It earned $1.2bn in its international operations, which include Asia, but this was down by more than half from the previous year.