Eurozone retail sales fall sharply in December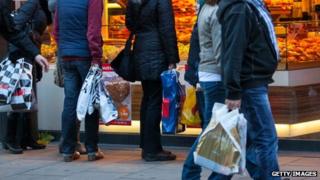 Retail sales in the eurozone fell sharply over the Christmas period, with their biggest monthly fall in two-and-a-half years.
December's sales fell by 1% compared to the same time a year ago, and by 1.6% compared to November. Both figures were much worse than analysts expected.
The drop in consumer demand followed a surprise fall in eurozone inflation to 0.7% in January.
The figure prompted concerns about deflation in the 17-nation bloc.
According to the European Union statistics agency, Eurostat, the largest annual decrease in sales came in Germany, where trade fell by 2.4% in December compared to the same month in 2012.
Overall, sales of food, drink and tobacco fell by 1.6% on an annual basis, while trade in non-food items dropped by 0.4%.
Deflation fears
Consumers have been the weak link in the eurozone's recovery from its worst ever recession. They are reluctant to spend with unemployment still near record highs, even with retailers cutting prices for the 22nd month in a row.
That risks a vicious cycle where households continue to hold back for bargains, forcing businesses to lower prices even further, and increasing the chances of deflation.
Some economists expect the European Central Bank (ECB) to take action to address the issue, perhaps by cutting the interest rate to 0.1% or zero from its current level of 0.25%.
"I can't say that deflation is a likely prospect, but it's a bigger risk than it was just two months ago. It will highlight the pressure on the ECB," said Peter Dixon at Commerzbank.
"It's possibly another piece of the jigsaw that says a rate cut, if not tomorrow then probably next month," he added.