Cost of living crisis to turn around this year, IFS says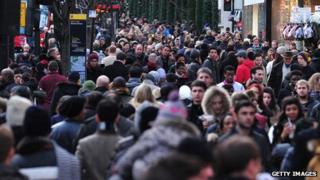 The "cost of living crisis" is about to turn around, according to a forecast from the Institute for Fiscal Studies (IFS).
In its so-called green budget, the IFS predicted that wages will start to rise faster than inflation in just a few months' time.
But it also warned that public spending cuts would continue to hit consumers.
In particular, it said spending on the NHS was due to fall by 9% per person over an eight-year period.
However, it forecast that consumers would see their real wages - which allow for inflation - increase for the first time in five years.
"We see the cost of living crisis turning round in the middle of this year," said Andrew Goodwin of Oxford Economics.
The fall in unemployment was one contributor to that, he said.
"Skill shortages should also help push up wages," he added.
Last month, the government claimed that take-home pay - i.e. after tax - was already rising for all but the top 10% of earners.
'Unprecedented squeeze'
On the other hand, the IFS warned about the scale of public spending cuts still to take place.
By the end of March 2013, it said only 40% of the government's planned cuts would have been implemented.
Taking into account population growth, it said public spending per person was expected to fall by 2.4% every year between 2010 and 2018.
The National Health Service is expected to be badly hit, even though spending on the NHS has been protected.
After adjusting for the fact that the NHS will be looking after an increasing number of older patients in the years ahead, the IFS has predicted that spending per person will fall by 9% between 2010-11 and 2018-19.
That would be "an unprecedented squeeze for the Health Service", the report said.
"The question is whether that level of spending will be acceptable to voters," said Rowena Crawford of the IFS.
'No bubble'
When deciding whether the UK is in a housing bubble, the IFS said it was important to consider the rise in house prices in real terms, in other words after adjusting for inflation.
The Office for National Statistics (ONS) said in October 2013 that house prices across the UK had reached a record high.
But after stripping out inflation, the IFS said prices in the UK were still 25% below their peak in 2007.
Even in London, where prices have risen fastest, it said prices were still 17% below the level they were at the top of the market.
"The fact that real prices in both London and the rest of the UK are below their previous peak might give us some reassurance that we're not yet in bubble territory," said Daniel Chandler of the IFS.
But he also expressed concern that affordability is becoming much harder in London.
Indeed the ratio of house prices to average earnings for London first-time buyers has already surpassed its previous peak.
"This might indicate potential bubble dynamics," he said.
Pension changes
The IFS also proposed a radical change to the way that pensions are taxed.
At the moment, it argued, pensioners do relatively well from the tax system.
It has therefore proposed that pensioners should be liable for National Insurance (NI) contributions on income they receive from private pensions.
To keep the system fair, workers would not have to pay NI on pension contributions, as they do at the moment.
National Insurance would therefore take on the same characteristics as income tax.
In other words pension contributions would be free of tax and NI; pension payments would be subject to both NI and income tax.
Special care would need to be taken so that as people grow older, they do not pay NI twice.
Nevertheless the IFS suggests that the government begins to charge pensioners for NI contributions at a relatively low rate.
It said that a 1% levy would raise £350m for the government.