Panasonic shares soar on tripling of earnings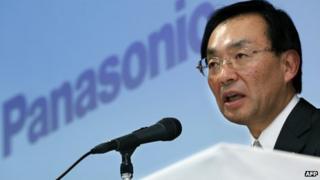 Shares in Japan's biggest consumer electronics group, Panasonic, jumped 19% on Wednesday as hopes improve for its reorganisation plan.
The shares were the best performing stock on Tokyo's Nikkei index.
It is turning from making smart phones and plasma panels to industrial products, particularly in the car industry.
On Tuesday Panasonic said third quarter operating profits more than tripled to 116.6bn yen (£705m; $1.15bn).
Over the last year it has axed some 32,000 jobs
In October Panasonic won a contract to supply the electric car maker Tesla with two billion battery cells.
Operating profits at the group's automotive and industrial unit, which is the company's biggest, was 28.2bn yen in the September to December period. Last year it made a loss of 800m yen over the same months.
President Kazuhiro Tsuga says he wants to double revenues at Panasonic to 2 trillion yen by March 2019
However, Panasonic's stock has been volatile and, since the start of the year, has made a net gain of only around 3%.
Sony's woes
Many of Panasonic's rivals in Japan's electronics industry are also in the throes of major restructuring.
They have been helped by the dramatic weakening of the yen which has made their products more competitive overseas.
Sony was reported on Wednesday to be in talks with an investment fund, Japan Industrial Partners, to sell its loss-making Vaio personal computer business which it has been running for 17 years.
Its shares rose some 8% before falling back in later trade.
Under Chief Executive Officer Kazuo Hirai Sony has shed thousands of jobs over the last two years and last year sold off assets such as its New York headquarters and a major building in Tokyo.
However, Moody's Investor's Services last month cut Sony's debt to "junk" status.
It said: "Sony's profitability is likely to remain weak and volatile, as we expect the majority of its core consumer-electronics businesses -- such as TVs, mobile, digital cameras and personal computers -- to continue to face significant downward earnings pressure,"
Sharp recovery
Meanwhile, Sharp last month said its restructuring was 90% complete, although it said it would continue to sell off some assets and shares in the company.
Two years ago it warned that it risked going out of business.
It is trying to diversify away from supplying smart phone panels for Apple, and has been helped by a surge in orders from Chinese manufacturers.
Now it expects, after losses last year, to report profits of around 100bn yen for this year.