Swatch sees profits rise 20% in 2013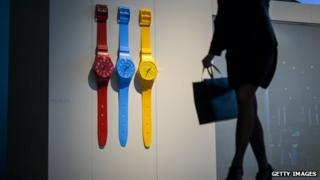 Swatch, the world's biggest watch maker, has reported a jump in profits for 2013 and says trading in the new year has got off to a good start.
Profits rose 20.2% to 1.9bn Swiss francs ($2.1bn; £1.3bn) in 2013, despite the strength of the Swiss franc reducing its competitiveness in the US and Japan.
Swatch added 3,800 to its global workforce bringing the total to 33,600.
The firm also said it had made an "auspicious" start to the year.
Shares in Swatch were up 4.7% in early trade in Paris.
Growing share
Profits for 2013 were boosted by a one-off payment from US jewellery chain Tiffany & Co. The two companies signed a deal in 2007 to form a 20-year partnership which came unstuck in 2011.
Swatch said Tiffany had been trying to block and delay the venture, which was called Tiffany Watch Co. In December last year, Tiffany was ordered to pay Swatch $448m (£274m) in compensation.
Swatch now has 20 brands, ranging from upmarket names such as Omega and Breguet to its trademark plastic watches.
Last year, it bought the US jewellery firm Harry Winston for an estimated $1bn and also took control of Rivoli Investment, an importer and retailer of luxury products across 360 outlets in the Middle East.
Sales of the group's watches and jewellery grew by more than 10% last year. Swatch said that it was gaining market share as the entire Swiss watch industry's exports grew by just 1.8% to the end of November 2013.
Of the new jobs, some 900 were created in Switzerland at a new watch-dial plant in Grenchen, a component plant in Villeret and component production facilities in Boncourt.
The strength of the Swiss franc has hit the group's electronic systems segment, which makes microchips, miniature low power quartz crystal and specialised timing equipment for sporting events. The unit made a loss of some 12m francs, with sales down 3.9%