Virgin Atlantic to halt Sydney to Hong Kong route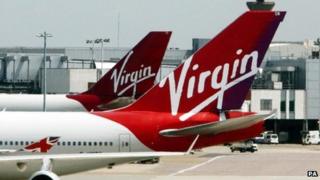 Virgin Atlantic has said it will drop its Sydney to Hong Kong route from 5 May, amid increasing costs and a challenging business environment.
The move will leave British Airways as the last remaining European carrier to fly to Australia via Asia.
Virgin said it would continue to offer services between Hong Kong and London, but that some staff in Australia and Hong Kong would be affected.
The move could be a boost for some Asia-Pacific carriers.
Tough market
Virgin Atlantic, which has offered daily flights from London's Heathrow airport to Sydney via Hong Kong, said its final flight from Sydney to Hong Kong would be on 5 May, while its last flight from Hong Kong to Sydney will depart on 4 May.
"Despite the best efforts of our employees, external factors such as increasing costs and a weakening Australian dollar have affected our profitability," said Virgin Atlantic's chief executive Craig Kreeger.
"These are still difficult times for the airline industry and as part of our strategy to operate more efficiently, we need to deploy our aircraft to routes with the right level of demand to be financially viable," he added.
No further details were immediately available on job losses.
Other airlines offering the Sydney to Hong Kong route on a daily basis include Cathay Pacific and Australian flag-carrier Qantas.
Qantas's international operations have been struggling for some time, hurt by several factors including higher fuel costs, subdued travel demand and increased competition.
In December, the Australian carrier issued a profit warning and announced 1,000 job cuts amid strong competition in domestic and international markets.
The firm then saw its credit rating cut to below investment grade by ratings agencies Standard & Poor's and Moody's.