ANZ customers win partial victory over late fees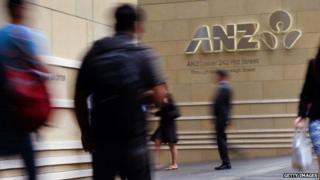 Australia's Federal Court has found that late fees charged by Australia and New Zealand Banking Group (ANZ) were "extravagant, exorbitant and unconscionable".
But the court said some other fees the lender had charged were reasonable.
Some 43,500 customers took the bank to court over claims that it charged them "exorbitant fees".
A lawyer representing the customers had estimated the total fees charged by ANZ to be around A$50m ($46m; £28m).
ANZ is one of of Australia's big four banks and the class action suit, which was one of the largest in Australia, began in 2010.
The case against ANZ had included "dishonour" fees on bank accounts, as well as over-limit fees and late payment fees on credit cards.
The Melbourne-based court ruled in favour of the customers on late payment fees, which were found to be penalties, rather than fees for service.
The court said, however, that the other fees charged by ANZ, including honour, dishonour, non-payment or over-limit fees, were of a different character.
"None of them constituted a penalty at common law or a penalty in equity", the court found.
ANZ and Maurice Blackburn, the legal firm representing the customers, have been directed to discuss penalties and damages.
Not alone
ANZ is not the only bank that is facing such a case in Australia.
Maurice Blackburn has also launched a broader class action suit involving 170,000 customers and seven other banks - the largest collective legal action in Australia.
The banks involved in the broader class action suit include Commonwealth Bank, National Australia Bank, Westpac and Citibank.
The court's findings related to the ANZ case could open the door for other similar class actions.