Foreign exchange allegations 'as bad as Libor', says regulator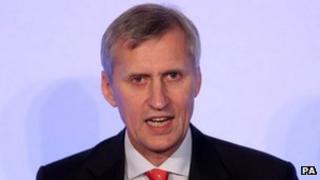 Allegations of foreign exchange rate-fixing at major banks are "every bit as bad" as the Libor scandal, the boss of the UK's financial regulator has said.
Martin Wheatley, the head of the Financial Conduct Authority (FCA), told MPs that 10 banks were now helping with its investigation.
Traders are alleged to have colluded in setting certain key exchange rates in the £3bn-a-day forex market.
The Libor interest rate scandal led to banks paying $6bn in fines.
Traders were found to have used online chat rooms to collude in setting the Libor rate - used to set the cost of borrowing between banks.
"The allegations are every bit as bad as they have been with Libor," Mr Wheatley told the Treasury Select Committee.
He revealed that the FCA's probe had now widened, and "a number of other benchmarks that operate in London" were being investigated "because of concerns that are being raised with us".
Other regulators around the world are also investigating possible manipulation of foreign exchange rates, but London's position at the centre of the market makes the FCA's investigation particularly significant.
Several banks, including RBS and Barclays in the UK, have launched their own internal investigations and already suspended foreign exchange traders.
Mr Wheatley said "the surprise for all of us" was that the allegations about fixing forex trades and the suggestion of collusion among traders have become so strong.
However, he told the committee that it was unlikely that the FCA's investigation would reach any conclusions this year. "I hope that we will next year... We are still in the investigation phase."