Stephen Hester named new RSA Insurance boss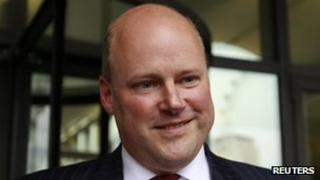 Stephen Hester, the former boss of Royal Bank of Scotland (RBS), has been appointed as the new chief executive of troubled insurance firm RSA.
He replaces Simon Lee, who quit RSA in December after a series of profit warnings and accounting irregularities in its Irish business.
Mr Hester said he would be "getting started immediately" on a review of the firm's activities.
He resigned from RBS in June after nearly five years in charge.
He was credited with helping to turn around the banking giant, which came to the brink of collapse during the financial crisis and was bailed out by the government.
RSA, which owns the More Than brand, was forced to sack several executives at its Irish division after it found that misreporting of financial information had led to a £200m hole in its finances.
In a statement, Mr Hester said the "challenges of recent months have demonstrated that we have not lived up to our stakeholders' expectations and performed to our true potential".
"I look forward to getting started immediately and working closely with the board on the business review to ensure that we are able to deliver strength and value to all of our stakeholders and re-emerge as an attractive solidly performing group."
The BBC's business editor Robert Peston says Mr Hester will earn a salary of £950,000, with a bonus worth up to 80% of that, plus longer-term incentive schemes potentially worth millions of pounds more.