Toyota expects record profits after yen boost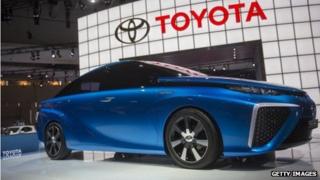 Toyota is forecasting record annual operating profits as the weaker yen helps to boost sales abroad.
For the financial year ending in March, it expects operating profit to reach 2.4tn Japanese yen ($23.7bn; £14.5bn).
The continuing weakness in the yen also helped Toyota post better-than-expected earnings for the third quarter, with operating profit of 600bn yen.
That is nearly five times higher than earnings in the same quarter a year earlier.
The car manufacturer said in a statement that its revised forecast was due to "progress in our recent profit improvement activities through cost reduction and marketing efforts, in addition to the change in our assumption of foreign exchange rates to reflect the depreciation of the yen".
The yen has lost about 25% of its value against the US dollar since late 2012, brought about by Prime Minister Shinzo Abe's economic policies - dubbed Abenomics - which have weakened the yen and helped the country's export-driven companies.
That has also helped Toyota's domestic rival Honda, which last week reported a near 40% jump in its nine-month net profits to 403bn yen.
Japan's other major car manufacturer, Nissan, will report its financial results next week.
Toyota sold 9.98 million vehicles during 2013 - about 270,000 more than its closest rival, US car giant General Motors.
Rocky road ahead?
Despite the upbeat forecasts, analysts are cautious about prospects for Japan's car manufacturers this year.
An increase in the country's sales tax in April could hit consumers' purchasing power.
In addition, a possible slowdown in the key US market could also lead to a drop in sales.
Takaki Nakanishi from the Nakanishi Research Institute warned that "the recent strong demand in Asia and American is likely to lose momentum".
He added that gains from the weak yen would taper off. Also, the political unrest in Thailand, which is a major production base for Japanese car companies, could also affect future results.
The unrest, which has been continuing for three months in Thailand, has so far been confined to demonstrations in the capital Bangkok.
Japanese car manufacturers have been affected by problems in Thailand before. Devastating floods that hit the country in 2011 caused Honda to halt production at its factories there, and also affected sales.