Lenovo shares drop 15% on strategy concerns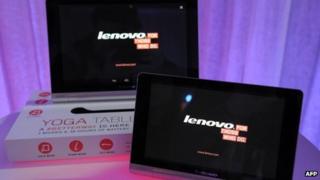 Shares in China's Lenovo, the world's biggest PC maker, have dropped by as much as 15% as investors question its recent acquisitions.
Last month, Lenovo struck two major deals totalling about $5.2bn (£3.2bn).
It bought IBM's low-end business server for $2.3bn, and a week later purchased US mobile phone company Motorola Mobility from Google for $2.91bn.
Google had paid $12.5bn for the Motorola handset business less than two years ago.
Investors had started selling Lenovo shares last week on news of the Motorola deal, due to questions surrounding Motorola's profitability.
The firm's shares fell 8% in Hong Kong on Thursday ahead of the market's closure for the new year holiday. When the market reopened on Tuesday they dropped more than 15% at one point, before recovering slightly to stand at 8.62 Hong Kong dollars.
Questions have been raised as to how Lenovo will integrate the acquisitions into its overall corporate strategy.
Bryan Ma from research firm IDC said: "The industry should look to how Lenovo turned around IBM's ailing personal computer division in 2005, as an example of Lenovo's previous integration strategies."
The Chinese company turned around IBM's ThinkPad brand, and that was seen as key to Lenovo overtaking Hewlett-Packard as the world's top PC maker in 2012.
Shifting trends
Manoj Menon, managing director at consulting firm Frost and Sullivan, told the BBC that "with its recent acquisitions, Lenovo will start resembling other big PC companies HP and Dell, both of whom are struggling with meeting investor expectations. This could be the primary reason for concern amongst investors."
Mr Menon added it would take Lenovo about 18 to 24 months if not longer, to deliver the results of its recent acquisitions.
"The industry is going through some major shifts," Mr Menon said. "PC play is shifting to tablets and other integrated devices, then there is the trend of cloud computing that is transforming the entire IT computing and storage space."
In addition to Lenovo's recent deals, there has been a report that the PC maker is in talks with Japan's Sony to acquire its Vaio laptop business.
In a statement, Sony said: "The press report on a possible PC business alliance between Sony and Lenovo is inaccurate." Lenovo did not respond to requests for a comment.