For the Journey: Should you buy shares in Lloyds Bank?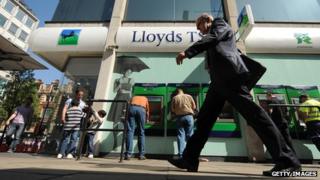 Lloyds has confirmed that private investors will soon be able to buy shares in the bank, in one of the largest ever public flotations.
By also announcing a further provision of £1.8bn for Payment Protection Insurance (PPI) mis-selling, it is also clearing the decks for part of the sale to go ahead as soon as April.
The taxpayer still holds a one third stake in Lloyds, and, assuming the public was offered a 10% stake, that could be worth more than £6bn.
Not since the privatisations of British Gas, and the water companies, in the late 1980s, has there been a sell-off of such a valuable public asset.
And there are some reasons to be optimistic about Lloyds.
In 10 days time it is due to report what it calls a "small" pre-tax profit.
"Underlying" profits, after provisions and exceptional items, are expected to come in at about £5.8bn.
On the other hand, shareholders are now unlikely to start receiving dividends before 2015.
On top of that, the bank may well have to make still further provisions for PPI mis-selling, and, should Labour win the 2015 election, it might be subject to a break-up.
Lloyds is the bank which uses the slogan "for the journey".
So would buying its shares be a journey of pleasure, or would the ride be just too bumpy?
Downgrade
Of course, Lloyds shares are already trading. So if you think the shares represent good value, you can buy them today.
"If you like the Lloyds story, and it has good prospects, there's no need to wait," says Richard Hunter, equities analyst at Hargreaves Lansdown.
But many analysts think the shares are already fully-priced, having risen by around 55% in the last year.
Investec has just downgraded the shares from "buy" to "hold" (meaning you may as well keep them if you already have them), with a target price of 85p.
Some also fear that its latest PPI provision - a further £1.8bn - may not be the last. Not to mention fines for Libor fixing or interest rate swaps - complicated loans - sold to businesses who did not understand what they were getting.
"We can never rule out further provisions," said Richard Hunter.
"We're not quite sure if there's any more."
'Wrong price'
In any case, the government is unlikely to offload its stake in a single tranche.
When the first slice was sold in September 2013 to institutions, it was a 6% stake, worth around £4bn.
The expectation is that another tranche - of around £5bn - will be sold in April, with a limited amount being offered to the public.
Then there is likely to be a much larger offering to retail investors in the autumn.
This would require a large advertising campaign - along the lines of the British Gas "Tell Sid" campaign - in the 1980s.
Splitting up the sale into separate sections would also help avoid the sort of criticisms levelled at the Treasury when it sold the Royal Mail in the autumn of 2013.
By selling the shares at 330p each, the government took £3.3bn. However the shares soared to 550p within a week, which could potentially have netted it £5.5bn.
Ian Gordon, banking analyst at Investec, says the government would protect itself against such criticisms, by selling successive slices, and adjusting the price accordingly.
"By doing so you protect yourself against accusations of selling at the wrong price," he says.
'Big question mark'
But the biggest uncertainty for investors is what might happen to Lloyds if Labour wins the 2015 election.
Ed Miliband has already committed the party to capping the market share of the big five lenders, which could entail a bank like Lloyds being forced to sell off branches.
Lloyds also faces being broken up, as part of plans to create two new challenger banks.
"That's quite a big question mark," says Richard Hunter.
But Ian Gordon believes investors should not worry too much.
"Despite what Labour has said, we're talking about 2017 or 2018 at the earliest," he told the BBC.
"I'm also not wholly convinced that such an outcome would hit profitability," he said.
The material is for general information only and does not constitute investment, tax, legal or other form of advice. You should not rely on this information to make (or refrain from making) any decisions. Links to external sites are for information only and do not constitute endorsement. Always obtain independent, professional advice for your own particular situation.