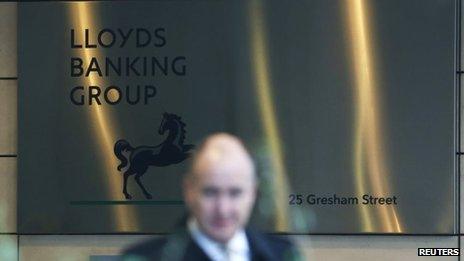 The scale of compensation being paid by Lloyds for mis-selling PPI credit insurance is now almost unbelievable, with its announcement today that it is setting aside another £1.8bn to meet these costs.
That will bring to £9.8bn its provisions for PPI compensation - and PPI costs for all banks are now approaching £20bn.
However, in an unusual announcement ahead of its results in ten days, Lloyds also had good news - that the regulator, the Prudential Regulation Authority, is now treating it as out of intensive care and therefore like other banks.
Which means Lloyds expects to be able to apply to the PRA in the second half of 2014, to resume dividend payments to shareholders for the first time since the middle of 2008.
Lloyds also said that it is preparing the detailed documents that would allow it to sell billions of pounds of shares to the general public, in the first properly mass-market privatisation since the 1990s - which is expected in April.
There are a couple of very interesting implications of Lloyds' announcement today.
First, that the significant portion of the UK's economic recovery that is dependent on consumers spending their PPI compensation has a bit longer to run.
The total PPI payments by banks of approaching £20bn represents more than 1% of GDP: It is a proper economic stimulus.
Second, that the government and Lloyds do not appear to believe that Labour's pledge to break up the biggest banks - and Lloyds is the biggest UK retail bank - is likely to have teeth.
If that recent promise, by Ed Miliband, Labour's leader, were regarded as credible, it would be hard to sell Lloyds' shares to the general public in April - for which preparations are being made - because it would be immensely tricky to value the bank.
Which presents something of a dilemma for Mr Miliband.
Can he demonstrate in coming weeks that the dismantling of Lloyds and the other big retail banks would definitely happen in the event of a Labour victory in the general election?
And would it make political sense to deliver that putative proof of deliverable intent in a fashion that could blow up the Lloyds privatisation?
Here is a bit more detail on what Lloyds has announced today.
On the timetable for future phases of privatisation, the government can announce the next share sale any time after 6 March - which is when Lloyds files its accounts in the US (trust me on this).
And this share sale, likely to take place in April, is looking as though it will be modelled on the recent Royal Mail privatisation, rather than the 1980s "Tell Sid" deals.
Well the bulk of the sale will be aimed at investment institutions, with a tranche reserved for the retail market or individuals.
My sources tell me that around £5bn Lloyds shares are likely to be flogged in this way, compared with the £3bn Lloyds sale of last autumn.
However there will be a proper mass-market "Sid" privatisation for many billions of pounds more, probably in the autumn, with a huge marketing campaign aimed at individuals.
This will be the moment when the privatisation of Lloyds will be thoroughly politicised.
Because if millions of British people were to buy Lloyds shares, and Labour was subsequently to threaten to blow up the value of the bank with its plans to break up the big banks, that could upset investors.
As for the question of how long the economic stimulus of PPI compensation is set to endure, Lloyds still has £2.8bn of cash to hand out to hundreds of thousands of people.
And just to give you some idea of the scale of this hand-out of cash to people, Lloyds has so far agreed to make payments in respect of 2.6 million complaints, and today 's extra £1.8bn of compensation will address a further 550,000 complaints.
The average payment, for the £9.8bn of total compensation costs, is £2,800 per claim.
These are staggering, economically significant sums.
Perhaps the extraordinary thing is that Lloyds' recovery and privatisation is not being held back by these payments.