Ryanair makes loss as low fares and weak sterling hit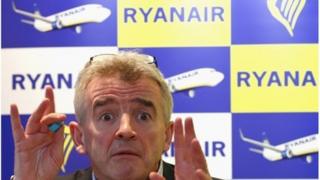 Ryanair made a loss in the final three months of last year as lower fares and the weakness of sterling against the euro hurt trading.
The no-frills airline said average fares were 9% lower leading to a 35m euro (£28.8m) loss for the quarter.
The fall came despite a 6% rise in passenger numbers, which chief executive Michael O'Leary attributed to seat promotions and lower fares.
"Our Q3 loss of 35m euros is in line with previous guidance," he added.
Despite the profit drop, the airline said "ancillary" revenues - which include reserved seating, priority boarding and credit card fees - rose by 13%.
Ryanair said bookings in the fourth quarter were "significantly" ahead of last year, but prices were still weaker.
In November, the company warned full-year profits to the end of this financial year were likely to be down on last year - a first annual profits fall in five years.
New attitude
Ryanair said it had now finished implementing a series of initiatives aimed at improving passenger experience, including a free small second carry-on bag, a 24-hour grace period to correct minor booking errors and reduced boarding card and airport and bag fees.
It said it also now had allocated seating on all flights, charging passengers five euros to select their preferred seat. It said uptake of this had "grown significantly".
"It now appears that sales of reserved/allocated seats will exceed the revenue loss from cutting airport and bag fees," it said.
In September, Ryanair pledged to reform its "abrupt culture", following shareholder concerns that customer service issues were hitting sales.