Yum Brands plays down China bird flu fears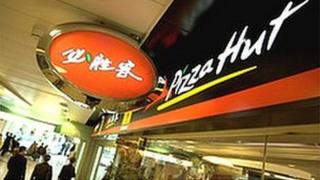 Yum Brands, the owner of fast food chains KFC and Pizza Hut, has said that fresh concerns of bird flu in China have not impacted on its sales.
China is one of the biggest markets for the firm and a bird flu outbreak hurt its sales in the country last year.
The company is also recovering from a food safety scare in China - which further hurt its revenues in 2013.
Yum said it was confident of growth in the current year and forecast its profits to rise by 20%.
"With the decisive actions we've taken to strengthen our company across the board, we are well positioned to deliver double-digit EPS growth in 2014 and the years ahead," David Novak, chief executive of the firm, said in a statement.
'Significant progress'
The robust growth forecast comes despite the firm reporting a 32% fall in profits for the year ending 28 December 2013.
Its earnings during the year were hurt by a decline in sales in China. Its sales in the country were impacted by a report in December 2012 that two of its suppliers were providing chickens with excessive levels of antibiotics.
Just as the firm was recovering from those allegations, fears of an outbreak of bird flu in the country dented its sales.
Sales at KFC stores in China fell 15% in 2013, from a year ago.
However, the company said it had taken steps to address those issues and was confident of a recovery of its business in the Chinese market.
"In China, we strengthened our poultry supply chain, made significant progress rebuilding consumer trust in the KFC brand and made substantial gains in restaurant productivity,"
Yum said it opened 740 new units in China in 2013.