UK home building hits highest since 2007, figures show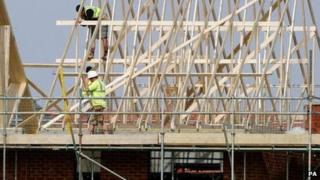 New-home building in the UK last year hit its highest level since the financial crisis, with London's build-rate the strongest for 25 years, according to a report.
New-home registrations in the UK rose by 28% in 2013 to 133,670, the highest number since 2007, the National House Building Council (NHBC) said.
In London, 26,230 new-build homes were registered, a 60% increase on 2012.
But the NHBC warned that a new-home shortage was pushing up prices.
NHBC chief executive Mike Quinton said: "Looking back at 2013 it is very clear that it has been the best in a number of years for the sector as a whole, across the entire country.
Chronic shortage
Every region across the UK, apart from Wales, saw a year-on-year increase in the number of new homes registered.
"Over the year, we have seen a genuine return of confidence to the industry as builders strive to meet the growing demand for new homes that the UK clearly needs.
"Government initiatives such as Help to Buy have also contributed."
But he added: "The UK still has a chronic shortage of new homes, with an unprecedented number of young people still living at home and unable to get on the housing ladder."
According to the NHBC report registrations increased year-on-year by 30% in the North East, by 28% in Eastern England, by 17% in Yorkshire and the Humber, by 13% in the South East, by 16% in the South West, by 37% in the West Midlands and by 30% in the North West.
In Scotland, 10,052 new homes were registered in 2013, a 21% rise on the previous year.
Some 2,072 new homes were registered in Northern Ireland last year, marking a 16% annual increase, while in Wales, the number of new homes edged down by 12% year-on-year to 3,577, according to the NHBC's figures.