Should you haggle for your summer holiday?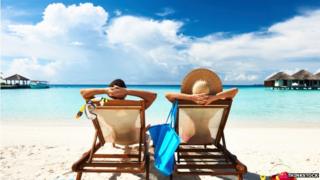 It is the time of year when many of us are thinking of booking our summer holidays and looking for savings.
Research suggests that holidaymakers are already getting in early, with bookings up 20% on this time last year.
But are early birds really catching the worm? Can you actually haggle for the best deal for that two weeks in the sun?
Bob Atkinson from Travel Supermarket advises that you do your research online first and then go and visit a travel agent.
"Give them a call or go to a retail shop with your printouts to see if a bricks-and-mortar or online travel agent can give a better price on the same deal," he says.
Or the travel agent may be able to put together a similar, but cheaper, deal.
Commission
The big savings can be made when building complicated itineraries, perhaps where a series of flights is involved, or where tickets have been bought individually.
This is where a clever agent can use industry knowledge to undercut elements booked separately.
Savings can be as much as 20 to 30% on the total cost.
However, simple package deals are a different matter.
Agents are unlikely to offer significant savings on a trip to Spain or to a city destination, as profit margins on such packages are very tight.
On long-haul trips, there is more scope for savings. Flights to Florida or beyond could carry reductions of as much as 10%.
It is usually down to the agent how much commission they are prepared to give away, so let them know what you want to pay.
'Fixed price'
For UK bookings, it is often just as cheap to cut out an agent altogether, unless they happen to have their own deals on cottages, for example, or a holiday park.
For such bookings, Bob Atkinson advises using price comparison sites on the internet.
"Things like UK hotels will always be cheaper online through a comparison site, as will car hire, travel insurance, airport parking and, in the vast majority of cases, flights," he says.
Haggling with a website is harder, but it is always worth a try.
But many agents, like Thomas Cook, claim the prices you see online are the same as in-store.
"Our price parity policy also ensures that prices and savings are consistent whether a booking is made in-store, online or by telephone," said a spokesperson.
And not everything is up for negotiation; individual flights, for example, are usually a fixed price.
Free child places
But for would-be bargain hunters, Which? Travel has put together a three-step guide to securing a successful holiday deal. It suggests you begin by asking if the price can be improved.
If not, you should ask if there is a discount for paying the full amount immediately.
Or you could ask if any extras, like car hire or days out, can be included in the price.
"If you're booking a package they'll almost certainly give you a free child place at this time of year," advises Sean Tipton from the Association of British Travel Agents (Abta).
"And that can be a pretty substantial saving, because a free child place is not just the hotel, it's also the seat on the aircraft."
His advice is to try to take advantage of such bargains by booking as soon as possible.
And if you are hoping to haggle, you have to be realistic.
The margins on holidays are very slim. But it is always worth asking.