State Street UK fined £23m by FCA for overcharging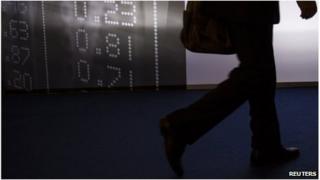 The Financial Conduct Authority (FCA) has fined custody bank State Street UK £22.9m for overcharging clients.
The FCA said six clients had been charged $20.2m (£12.3m) too much for transition management services between June 2010 and September 2011.
The FCA said the firm had acted with "complete disregard" for customers.
State Street UK gained a 30% discount on the fine for settling at an early stage in the investigation. It said it "deeply regretted" its failings.
Custody banks manage cash and take care of administration for investment firms, including pension funds.
The FCA said the company had acted deliberately and with complete disregard for the interests of its customers by prioritising revenue generation over service to them.
When challenged about fees by a client, the FCA said the company claimed the mark-up had been made in error and offered a refund, but failed to acknowledge it had overcharged on other transactions.
'Deliberate'
Tracey McDermott, director of enforcement and financial crime, said: "State Street UK's significant failings in culture and controls allowed deliberate overcharging to take place and to continue undetected. Their conduct has fallen far short of our expectations. Firms should be in no doubt that the spotlight will remain on wholesale conduct.
"The FCA views State Street UK's failings to be at the most serious end of the spectrum."
State Street UK said it had dismissed staff who were involved in the overcharging in 2011.
It said it had now cleaned up its act: "We believe we now have industry leading controls within our transition management business and have bolstered our control functions in the UK."
Transition management is used to help manage risks and raise returns on investments.