Fines loom on tax return deadline day, says HMRC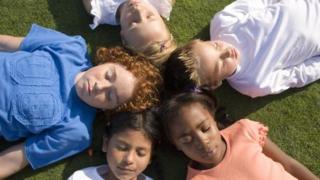 Thousands of people face fines if they fail to meet a tax return deadline at the end of Friday, including many higher earners receiving child benefit.
The latest estimate suggests that one million people have still to complete their self-assessment forms.
Those who need to fill in the forms online by the end of Friday are primarily the self-employed and people with more than one source of income.
But nearly 100,000 people receiving child benefit have yet to register.
Benefit changes
Thousands of parents will be completing a return for the first time because of changes to the child benefit system.
This affects families where one parent has a taxable income of more than £50,000. If they continued to receive child benefit after January 2013, then they must pay some of that back in a tax charge.
If one parent has a taxable income of more than £60,000, then they must pay it all back.
"We've been writing to people since autumn of 2012 so those people affected will have had at least three letters from us and we've done advertising campaigns through 2012 and 2013, so I think we've got the information out there," said Ruth Owen, director general of personal tax at HM Revenue and Customs (HMRC).
"I think it is important to recognise that 90% of people have registered and understand what their liabilities are, so it is just those last 10% we still need to contact."
Anyone who has not paid the tax due starts incurring a £100 penalty plus interest from Saturday.
However, anyone who fails to register at all could be fined on a case-by-case basis, under what is known as a "failure to notify" penalty.
Delay
The self-assessment system means anyone who needs to complete a form for the tax year ending in April 2013 must do so by the end of Friday and ensure that have paid the appropriate income tax due, otherwise they face a fine.
Paper returns must have been completed and returned by 31 October, with the later deadline in force for online returns. Some 429,000 returns were submitted on Thursday, and about 286,000 had come in by 1500 GMT on Friday.
Three months after the deadline, additional daily penalties of £10 a day apply, up to a maximum of £900 if no forms have been returned. After six months, there is a further penalty of 5% of the tax due or £300, whichever is greater. After 12 months, there is an additional 5% or £300 charge.
There have been calls for the deadline to be waived for people struggling with the system.
Chas Roy-Chowdhury, head of taxation at accountancy body, the ACCA, said: "The circumstances around this year's deadline are different in that there will be a high number of people who will never have done self-assessment in their lives. They are going to miss the deadline not because they have been putting it off, but because they are newcomers."
Those who register will be sent an activation code to file their tax return online. Anyone who is still waiting for that code might find that their penalty is cancelled if they complete their return within two weeks.
Meanwhile, Ms Owen said the tax authority would take account of "reasonable" excuses for failing to meet the deadline, such as the problems caused by flooding in Somerset.
A year ago, around 578,000 people filed on the last day - 31 January - before fines were issued.