Japan inflation rises at fastest pace in over five years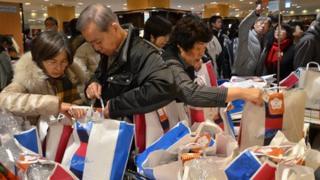 Japan's consumer prices have risen at their fastest pace in more than five years, marking more progress in the country's battle against deflation.
Data showed that core consumer prices, excluding fresh food, rose by 1.3% in December from a year earlier, which was higher than market forecasts.
The latest figures give a boost to Prime Minister Shinzo Abe, who has pledged to end 15 years of falling prices and revive economic growth.
Japanese stocks rose by nearly 1%.
Investors were also cheered by Japan's employment and manufacturing data released on Friday, which provided more evidence that Asia's second-biggest economy is recovering.
Japan's jobless rate fell to 3.7% in December, its lowest level in six years, while factory output rose.
Sales tax question
Japan has struggled with stagnant economic growth for more than two decades, largely due to falling prices.
This has caused consumers to hold back from spending, since they do not expect prices to go up.
Mr Abe - whose economic policies have been nicknamed 'Abenomics' - has been looking to reverse this trend through an aggressive government spending plan aimed at weakening the yen.
The Japanese currency weakened by about 18% against the US dollar last year.
However, a new sales tax is expected to have an adverse economic effect on consumers, who might choose to tighten their belts.
Companies such as train operator Tokyo Metro and beverage giant Coca Cola have said they plan to increase prices to cope with the higher consumption tax, which is set to take effect in April.
Mr Abe now faces pressure to raise corporate wages to help offset the effect of rising prices and taxes.