Amazon stock slides 10% on earnings miss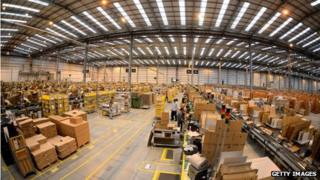 Shares of online retailer Amazon fell 10% in after-hours trading after it reported weaker than expected profits for the October-to-December quarter.
The firm made a net profit of $239m (£145m) during the period, up from $97m during the same period a year ago.
Its sales also rose 20% from a year earlier to $25.59bn. However, many analysts had expected revenues of closer to $26bn during the period.
Its sales outlook for the current quarter also fell short of forecasts.
The company posted sales guidance of between $18.2bn and $19.9bn for the current quarter.
Analysts said the firm was facing pressure from investors to boost its earnings.
"Amazon's gotten so many hall passes on earnings," said Colin Gillis, an analyst at BGC Financial,
"Perhaps the market expectations for them to deliver income, as their revenue growth slows, is increasing."
Amazon reported a 22% rise in full-year sales to $74.45bn, compared with $61.09bn in 2012.