Geox boss: 'Nobody believed in me'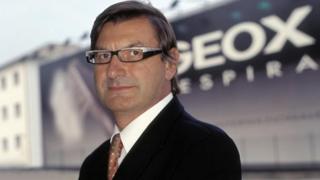 Mario Moretti Polegato wasn't supposed to run a footwear and clothing company. He wasn't even supposed to set up his own business.
When he was a baby, his mother has told him, his father wetted his lips with wine and declared that he was the one who was going to run the family's winery in north east Italy.
And although he did indeed join the firm, he didn't stay there - and it's all because of a business trip to the US.
After attending a wine conference in Reno, Mr Polegato decided to take a holiday in the Nevada desert.
While he was there, he went for a walk and found his feet became so hot and uncomfortable that he took out his Swiss army knife and cut holes into his trainers.
Immediately, he felt better, and decided that the way shoes were made needed to be re-invented. And he was the man to do it.
"I wanted shoes to be breathable and waterproof at the same time," says the 62 year old.
"I spent three years researching my patent, and I offered it to all the big shoe companies, but nobody believed in me.
"But I believed very strongly in the project. The idea was so simple, so easy to explain."
Slow starter
With established shoe-makers turning him down, 17 years ago, aged 45, and armed with a bank loan, Mr Polegato founded his own footwear business - Geox.
It has made him a billionaire.
To begin with he hired five young people from his home village of Biadene di Montebelluna, none of whom he knew, and none of whom had worked before, let alone had any experience of how to run a business.
Today Geox is a global company with 30,000 employees (including the original five), and 1,300 stores all over the world.
After originally keeping its focus on shoes, it has subsequently expanded into clothes.
It listed on the Milan stock exchange 10 years ago, with 29% of shares sold. The remaining 71% are held by Mr Polegato.
But despite the spectacular subsequent growth of the business, Mr Polegato says that he started Geox very slowly, running it "almost like a hobby" while still working in the family wine business to keep a salary coming in.
What he did wrong, he says, was spend three years trying and failing to sell his patents. He wishes instead that he had started Geox earlier.
What he did right, Mr Polegato thinks, is to apply for a patent in 100 countries straight away.
"You have to protect your ideas," he says, "after 17 years in business, our product is still unique, because I protected it with a patent."
Support innovation
Mr Polegato is such a firm believer in the need for companies to protect their inventions that he is now a member of the European Patent Office, and helps to judge nominations for its European Inventor Award.
He also lectures on the subject of intellectual property - it's a topic he feels strongly about.
"Let me tell you a story," he says, "Many years ago someone in Naples created espresso and someone created pizza, but nobody knows who. Now it's the American company Starbucks that everyone knows for coffee, and the American firm Pizza Hut that has thousands of pizzerias."
Mr Polegato says this to highlight the difference between having an idea and using an idea, because he feels there isn't enough support in Europe, and particularly in Italy, for people with ideas.
"Schools [in Italy] don't explain innovation, they don't support it, and there is the same problem in local policy," he says. "They just don't invest in innovation."
He adds: "Italian entrepreneurs have a good reputation in the international market - but that [same respect] doesn't exist for Italian politicians."
"They [the politicians] discuss things like reforming bureaucracy… but nobody talks about the economy, about incentives for entrepreneurs."
Eurozone crisis
It's worth noting, however, that Geox is not a company without its problems.
In the first nine months of 2013 its sales fell by 11.9%, and in its latest financial statement the company admits it's been hit hard by the austerity measures put in place as a result of the eurozone debt crisis.
It describes the financial and economic environment as "increasingly difficult in Europe, especially in the Mediterranean area".
As a result, the company is re-organising itself by closing underperforming, mainly European, stores - 115 in 2013 and another 68 planned for this year. But while it is closing stores in Europe, it's opening them in Asia, with plans for 400 stores in China.
And, Mr Polegato explains, there's another big shift in focus.
Increasingly the firm wants to boost production of shoes and clothes for the more lucrative female market. Women currently represent approximately 65% of global sales in the shoe market.
This means shifting the emphasis from the breathable and waterproof qualities of its products (which will remain), to instead promoting them more as fashion items, as well as employing more women.
"It is necessary to completely change direction," says Mr Polegato. "We want to represent urban style... shoes you can wear for 10 hours a day."
The challenge, he says, will be producing a collection that matches the different weather and fashions around the world.
So he has his work cut out for 2014. How will he cope with the pressure?
"To relax, I like to spend time with my old friends and family, with a glass of prosecco," he says. The family business still comes in handy.