The female curate offering salvation to the Post Office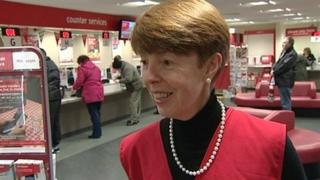 This weekend, Paula Vennells has two sermons to write and deliver to her Church of England parishioners in Bedfordshire.
She also has a family to look after.
Oh, and in the back of her mind will be the fact that she has been entrusted to try to rescue a 350-year-old British institution which is facing difficult times.
For Ms Vennells is not only a part-time curate, she is also the chief executive of the Post Office.
Since the privatisation of the profitable Royal Mail, the Post Office, its poorer sister, has been left struggling for survival.
Revenues are falling, fewer customers are coming through the doors and the government subsidy will end within four years.
Yet, after 22 months in the job, Ms Vennells has just promised to keep all the remaining 11,700 post offices open.
"They will all stay, and hopefully we might even have more," she told the BBC.
More than that, she is promising financial salvation.
"I am certain I can turn it around," she insisted.
Comfy sofas
If you want to see Ms Vennells's vision of salvation, you need to visit a shopping centre in Norwich.
The post office here looks like a mixture of a bank and a coffee shop.
Jenny, the meeter and greeter, is directing customers to different counters, or helping them post their parcels.
There are comfy sofas - and no queues.
In one corner a Chinese woman is renewing her visa in a booth using fingerprint technology.
But the most important stuff is going on behind a room-divider, where Tracey Leggat is trying to persuade customers to take out a Post Office-branded current account.
Indeed it was in this branch that such accounts were first launched in May 2013, as part of a pilot that now covers 110 post offices in East Anglia and the East Midlands.
So sensitive is the Post Office to the project, it refuses to say how many accounts have been opened.
But Tracey seems in little doubt.
"We've opened a lot. They've been really popular," she says.
'No revolution'
Selling current accounts is the key to the Post Office's survival. Not because they are profitable in themselves, but because customers with accounts tend to buy lots of other financial services.
The three accounts on offer are provided by the Bank of Ireland. There is the basic Control Account, which offers a cash card and no overdraft, the Standard Account and the Packaged Account, which includes travel insurance and car breakdown cover.
Kevin Mountford, a banking expert at Moneysupermarket.com, is sceptical about how popular they will be.
"It ain't going to be a revolution," he says. "People aren't going to be flocking because of anything overly creative or imaginative."
But he acknowledges that the overdraft rate of 14.9% on the standard account is pretty good value, compared with typical rates of 17% to 19% elsewhere.
And he argues that people may use the Post Office accounts because of the accessibility. You can use them at all 11,700 branches across the UK. In comparison, there are just 9,500 bank branches, and that is adding all the brands together.
Tracey Leggat agrees that is a big selling point in Norfolk.
"In a lot of the villages around here, the banks have closed down, but there's usually a post office," she says.
Big challenges
Only a third of the Post Office's income comes from the traditional area of postage and parcels. The money it makes from government contracts, like driving licences and passport applications, is down to just 13% of its revenue.
But financial services is growing by 6.4% a year.
Among the products on offer are Help to Buy mortgages, Isas, saving bonds, personal loans, travel, life and pet insurance, and foreign currency.
Paula Vennells says there is potential to double the financial services side of the business within five years.
"If you look at the market place, the lack of trust in traditional institutions is a big opportunity for the Post Office," she says.
She admits there are big challenges ahead, particularly with the continuing threat of industrial action, as she replaces loss-making crown offices with franchised operations in local shops.
But she remains perfectly resolute.
"I have no doubt it can be done, and I have no doubt it is very difficult," she says.
And while she says her skills as a vicar make little difference to her day job, honesty and trust are big words in her vocabulary.
"I won't say things I don't mean," she says.
"If I promise to deliver something, I will do my best to do that."