BSkyB's profits dented by costly football rights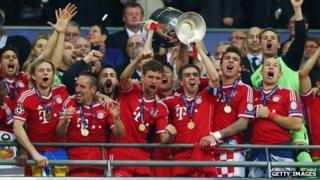 BSkyB reported pre-tax profits fell 9.2% from £610m to £554m for the second half of 2013, partly due to a new £760m deal to show Premier League football.
A continuing payment of £70m on BSkyB's "connected TV services", where TVs are linked to the internet and mobile phones, also hit profits, it said.
BSkyB lost the rights to show Champions League and Europa League matches to BT Sport in November 2013.
However, shares in the broadcaster rose 6% as the results beat forecasts ,before falling back to stand 3% higher.
News of strong growth in its on-demand and mobile use, and an increase in the dividend, also helped push the shares higher.
BT's 'dark shadow'
The company said it was "on track with our plans for the year".
Toby Syfret, TV analyst at Enders Analysis, said the presence of BT in the market meant BSkyB had to pay more for the Premier League deal.
But he said the hit to profits from the Premier League payment was a one-off.
Mr Syfret added: "There is a lot of innovation [at BSkyB]. The message is therefore clearly coming across that we are far from reaching our limits."
He said connectivity was opening up "more revenue opportunities", but warned about the "dark shadow" of BT.
'Many strands'
Richard Hunter, head of equities at Hargreaves Lansdown Stockbrokers, said analysts had concentrated on the "threat of BT, both in the sports offering and also its increasing strength in broadband".
But he said that since BSkyB had "so many strands" of business, it had enough money elsewhere to pick up the slack.
"It is, I believe, trying to rely less heavily on the football package part of its business," he said.
BSkyB said it added 42% more subscriptions in the three months to 31 December than the same period a year earlier.
Jeremy Darroch, chief executive at BSkyB, said: "In a consumer environment that remains challenging, customers continued to take Sky products in ever-greater numbers in the run-up to Christmas, with [second quarter] growth up by over 40% on last year."
He said BSkyB would work with its new US partner, HBO, to co-produce a "major new cinematic drama series".