Can Lenovo do an IBM with Motorola?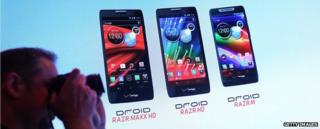 Years down the line, whenever there is a discussion about Lenovo, 30 January 2014 is likely to get a special mention.
It will be seen as the day it took a big step towards becoming a dominant player in the smartphone sector.
Once completed, Lenovo's deal to acquire Motorola Mobility for $2.91bn (£1.8bn) will see it become the world's third-biggest smartphone maker.
That is a big achievement, not least because until just two years ago Lenovo's global market share was negligible.
"This is a great position for Lenovo to be in, as it looks to power the next chapter of its growth," says Manoj Menon, managing director of consulting firm Frost and Sullivan.
'Launch pad'
However, most of its growth in the sector so far has been fuelled by China, which, with nearly 1.2 billion mobile phone subscribers, is one of the fastest growing markets for smartphones.
It is also benefiting from the growing demand for low-cost smartphones from other emerging markets.
But it has so far failed to make a mark in developed economies such as the US.
Analysts say Lenovo's Motorola deal could help it crack these markets.
"This could be the launch pad that Lenovo so desperately needed to become a significant global player," says Melissa Chau, a senior research manager with research firm IDC.
Many mobile phone carriers subsidise handsets for consumers in developed economies, meaning manufacturers need to work closely with carriers to boost their sales.
This is where, analysts say, Motorola's brand image could help.
Lenovo's acquisition of IBM's PC business in 2005 - featuring the ThinkPad range - is seen as key to it overtaking Hewlett-Packard as the world's top PC maker in 2012.
"Using Motorola, just as Lenovo used the IBM ThinkPad brand, to gain quick credibility and access to desirable markets and build critical mass makes a lot of sense," says Frank Gillett, an analyst with Forrester Research.
Motorola is currently the third-biggest Android-based smartphone manufacturer in the US.
It also works with more than 50 mobile phone carriers across the globe.
PC-Plus strategy
The success of its smartphone business is key to Lenovo's future growth because of the decline in global PC sales - which have now fallen for six quarters in a row and are forecast to fall further.
In an attempt to become the world's biggest computer maker, Lenovo has formulated a PC Plus strategy that includes manufacturing devices such as laptops, smartphones, tablets or servers.
Earlier this month, it announced a deal to buy IBM's low-end server division for $2.3bn.
Lenovo's combined sales of smartphones and tablets have now surpassed those of PCs for two straight quarters.
And its chief financial officer, Wong Waiming, says the Motorola deal will allow it to offer devices across various price ranges.
Growth hurdles
But Motorola's market share has fallen in recent years amid increased competition.
None of its latest products have generated a buzz among consumers being offered a range of new models by rival manufacturers.
"Motorola has not been shooting the lights out with designs or sales volumes in smartphones," says Mr Gillett.
There is also a huge gap between Lenovo and the market leaders Samsung and Apple.
Even after the deal is completed, Samsung's market share will be nearly five times that of Lenovo, while Apple's will be almost two-and-a-half times bigger.
It is unlikely that simply acquiring a brand name will help Lenovo close that gap.
Many analysts say product innovation, pricing and getting the marketing strategy right will be key to how successful this deal turns out to be.
The one thing going in Lenovo's favour is that it has shown in the past - with the IBM PC deal - that it can take on a loss-making business and turn it into a global leader.
The only question is can it do it all over again?