Asian stocks tumble on Fed taper and currency fears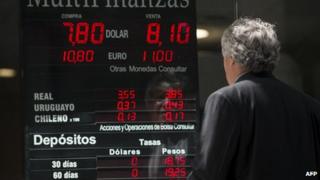 Asian markets have tumbled after the US central bank cut stimulus spending for a second month, and fears persisted over emerging market currency losses.
The Federal Reserve said it was scaling back its monthly bond-buying programme by another $10bn to $65bn (£39bn) due to the improved US economy.
Unexpected interest rate rises this week in India, Argentina and Turkey added to the skittish mood.
Concerns about weakness in their economies has caused market volatility.
Japan's Nikkei 225 index fell as much as 3% on Thursday, and Australian stocks shed 1% while Hong Kong's Hang Seng fell 1.4% at its open.
This followed declines on Wall Street on Wednesday, where both the Dow Jones and S&P 500 lost more than 1% following the Fed announcement.
'Shaken' investors
Global markets were also moved by a surprise decision by South Africa's central bank to raise interest rates for the first time in six years on Wednesday.
Investors have piled into assets perceived as safe havens, such as highly-rated sovereign bonds and gold.
The "flight to safety" also saw the Japanese yen and Swiss franc gain value against the US dollar.
Desmond Chua from CMC Markets in Singapore said equity investors were "shaken" by the Fed decision.
"One has to question then whether it was in their best interests to further tighten the liquidity tap on the back of uneven domestic data and spill-over effects from the emerging market rout," he said.