Starbucks makes management shuffle amid new digital push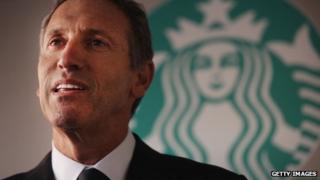 Starbucks chief executive Howard Schultz is shaking up the ranks of his senior management in order to focus on the company's digital strategy.
Mr Schultz is handing over day-to-day operations to Troy Alstead, who is being promoted to the newly-created position of chief operating officer.
Scott Maw, senior vice president of corporate finance, will succeed Mr Alstead as the company's chief financial officer starting next month.
Starbucks shares fell 3.2% in New York.
The reshuffle is part of the coffee giant's plans to adapt to "the rapidly evolving retail environment", Mr Schultz said in a statement.
"They will partner with me as I focus on Starbucks' mission, growth initiatives, and the convergence and integration of our retail and e-commerce, digital, card and mobile assets around the world," he said.
The world's largest coffee-shop chain is looking to develop its "next-generation retailing" as an increasing number of consumers use electronic commerce.
Starbucks is expected to strengthen its digital and mobile payments systems, as well as its loyalty programme.
Last week, the company reported better-than-expected quarterly profits due to higher US sales, with net income rising 25% to $541m (£326m) for the three months to 29 December.