Boeing profits up sharply on higher aircraft deliveries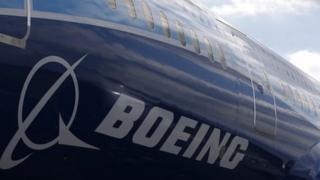 Boeing's fourth-quarter profits rose 26% to $1.23bn (£742m) as it delivered more commercial aircraft.
But shares in the US aerospace giant fell in early trading after it said that future revenues and profits would be lower than analysts had forecast.
Boeing's revenue for the three months rose 7% to $23.79bn, the company said.
The company said that it expected to deliver 715 to 725 aircraft this year, which would be an increase of at least 10% from last year.
"Strong fourth-quarter results underscored an outstanding full year of core operating performance that drove record revenue and earnings and increased returns to shareholders," said Boeing's chairman and chief executive Jim McNerney.
However, the Chicago-based aerospace and defence giant said earnings this year could be lower than previously thought. Boeing said it expects earnings to rise to as much as $7.20 a share in 2014, up less than 2% from $7.07 a share for 2013, as the pace of new orders is expected to slow.
"It's conservative," said Ken Herbert, an analyst at Canaccord Genuity. An hour into trading, shares in the Boeing were down more than 4%.
The defence arm of the group saw better profit margins during the quarter, but Mr McNerney said that Boeing was still being affected by falling US military spending.
"We are not out of the woods... We are entering the woods," he said.