China hopes to dispel 'copy others' reputation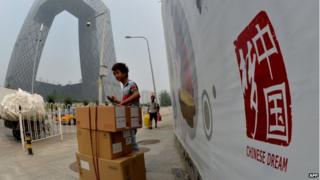 After assuming power in late 2012, Chinese President Xi Jinping declared what he called China's dream - his inspiring vision for the future of the world's most populous country.
The People's Daily, the mouthpiece of the ruling Communist Party, borrowed the same phrase when it reported the unveiling of what was claimed to be a fully home-grown operating system for tablets, smartphones and even PCs.
Dubbed China Operating System (COS), it will take on Google, Apple and Microsoft "to realise the China dream in the field of operating systems".
But will this dream be taken seriously?
Home-made?
Chinese bloggers and even some state-run newspapers have been quick to cast doubt over the claim that the software is genuinely developed and made in China.
Some have suspected that HTC, the Taiwanese smartphone maker, may have been involved in the project.
But the joint developers - the Shanghai Liantong (a little-known firm said to be backed by the government) and the Chinese Academy of Sciences - have fiercely denied this.
"Apart from a few details, we developed almost everything by ourselves," Wu Yanjun, a director from the Software Research Institute of China Academy of Sciences, told the People's Daily.
"Of course, [the software] has billions of lines of code, but we developed them entirely by ourselves, and it can be regarded as independent intellectual rights," he said.
Tan Liang, from the R&D department of Shanghai Liantong, is more specific on what should be regarded as a home-grown system.
He told the official Xinhua News Agency that COS was home-made because "we developed its user interface and related system services" even though the system was based on an existing operating system, Linux.
"Amazon's Kindle Fire uses a highly tailored system, but its interface is [Google] Android, and so it is still an Android system."
'Very Android-like'
It is difficult to convince sceptics as there is no beta version available for people to try.
This has led some to question the developers' claim that more than 100,000 apps are available to run on the system.
An official COS launch and promotion video did little to help the situation. Many Chinese internet users expressed their scepticism. Some even gave a new meaning to COS - Copy Others System.
IT enthusiasts in the West are equally unimpressed - the popular technology blog Engadget said COS looked very similar to Android.
"Ironically, all the COS variants - in the form of phones, tablets, PCs and set-top boxes - shown in the promo video… are very Android-like, and some of those features, like multitasking, content streaming and remote desktop, are nothing new."
Several attempts
The fact that the developers are unwilling to be transparent has given rise to accusations that the project, like many others in China, wasted taxpayers' money.
COS is not China's first attempt to make a dent in the operating system market.
Earlier this month, a Chinese tech firm, backed by private money, announced a new operating system for smartphones.
The developer, Coship Electronics, insisted that the system - dubbed 960OS - was China's "native mobile operating system".
In 2011, China's e-commerce giant Alibaba released Aliyun OS, an Android-based operating system for mobiles.
They attempted to challenge Google's domination and claimed to offer better security protection and user experience for Chinese customers, though they have yet to make an impact as the majority of smartphones and tablets sold in China use the Android system.
But COS is different as it marks the first time the Chinese government has got involved.
Censorship
China's internet is one of the most censored in the world.
But censors face an enormous challenge as the number of internet users has increased dramatically.
China is now home to 618 million users, with 80% of them accessing the internet via smartphones.
By helping wean China's IT sector off Western software, Beijing wants to be able to better police the internet.
But can COS rise to the challenge?
China is not known for its strength in software innovation and development. It is difficult to imagine how COS can hope to compete in the world market.
But inside China, it can be a different story.
The home-grown Weibo and Wechat have been enjoying enormous success.
They borrowed ideas and designs from Twitter and Facebook, but they don't worry about competition from overseas rivals as the likes of Twitter and Facebook are blocked by China's great firewall.
However, as an operating system, it is difficult see how COS can replicate the success of Weibo and others. To succeed, it will need the support of hardware manufacturers and to convince Chinese users that it is a better alternative.
But with the government throwing its weight behind it, nothing can be ruled out.