Sainsbury's Justin King happy to be middle-of-the-road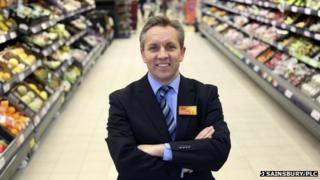 As Justin King announced his departure to staff gathered at the supermarket's headquarters in Holborn, London, there were tears in a few eyes.
This is a genuinely popular chief executive who has had a big impact on the company he led for 10 years.
Those who met the immaculately coiffured 52-year-old would often use words like "ebullient", "charismatic" and "affable" to describe the Midlands-born boss.
"He was always very personable and easy to get on with," Edward Garner, communications director at research company Kantar Worldpanel told the BBC.
"He was quite full of himself in a really nice way - bright and bushy-tailed. And a very good public speaker who was able to rally the troops."
The BBC's business editor Robert Peston agrees, saying: "He is an unusually outspoken, chatty and confident guy, who is also very good on radio and TV."
Mr King is certainly not crippled by low self-esteem, telling the BBC's Emma Simpson: "I think that great leaders - and I hope that history will judge me as one - should actually leave something in the tank. The business should go on to ever greater strengths."
Ice cream
But the fact that in a former role he was instrumental in bringing Haagen-Dazs ice cream to the UK, will be achievement enough in many people's eyes.
Mr King has spent most of his working career in food retailing, with spells at Mars, PepsiCo, Iceland, Asda and Marks and Spencer, before taking up his present role at Sainsbury's in 2004.
When he took over from the more austere Sir Peter Davis, Sainsbury's "was in a shocking state", Adam Leyland, editor of The Grocer, told the BBC.
His business impact on the quintessentially middle-class supermarket is undeniable, increasing sales by a total of £9.5bn during his period in charge, and nearly trebling underlying profits.
He cemented Sainsbury's position as one of the "big four" British supermarket chains, leaving it with a market share heading towards 18% - neck-and-neck with Walmart-owned Asda.
While that is only 1.5% higher than when he took over, Mr Garner says: "He achieved that increased market share in the face of phenomenal competition.
"When he took over the City was writing off Sainsbury's, saying it was caught in the middle between Waitrose on quality and Tesco on price.
"But Justin King had the very clear view that there's no problem with the middle; it's not a pejorative word. It's a place you can win."
His catchphrase, "Making Sainsbury's great again", has largely been fulfilled, many analysts believe.
"When Justin King took over [Sainsbury's] 10 years ago it was the worst operator in the market; today it's arguably the best," said Mr Leyland.
Mr King would leave "a massive pair of shoes to fill", he said.
Andrew Stevens, senior analyst at retail specialist Verdict, tweeted: "Mr King's departure was a significant but inevitable loss for the retailer."
Racing ahead?
A self-confessed petrol-head, Mr King used to drive a Maserati Quattroporte before realising this was not consistent with his company's "green" credentials.
He traded it in for a Lexus, which may not seem too much of a downshift to most of his typical customers.
His son, Jordan, is a successful racing driver in the British F3 series.
And there has been speculation linking the flamboyant boss to the top job in Formula One motorsport.
But this was batted away with typical charm by the confident media performer, who was appointed Commander of the Order of the British Empire in the 2011 Birthday Honours list for services to the retail industry.
"I'm not ruling anything out, but I'm not ruling anything in either," he told the BBC.
He reckons he has "plenty left in the tank", and when the right job opportunity comes along he will "grab it with both hands", he said.
But there will be no fat cat golden handshake for this chief executive.
Although he is entitled to a cash severance payment of up to 175% of his base £900,000-plus salary, Mr King has waived this.
Instead, he is retaining "significant shares and incentives" in the company, he said, to signal his confidence in the supermarket's future success.
If he does end up in F1, wags are already speculating that Grand Prix winners will also be awarded double Nectar points.