Banks' riskier trading activities to be curbed, EU proposes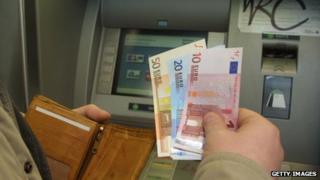 Proposals to isolate some of the riskier trading activities by the banking sector have been unveiled by the European Commission.
Proprietary trading - using banks' own funds for investing - would be banned, and measures introduced to ring-fence retail from investment divisions.
European commissioner Michel Barnier said they were the "final cogs in the wheel" of banking reform.
But critics said the draft legislation did not go far enough.
The proposals still need approval from individual countries and the European Parliament, and are unlikely to begin before 2017.
Proprietary trading, in which a bank uses its own money to try to boost its profits, "entails many risks but no tangible benefits for the bank's clients or the wider economy", the EU document said.
It said that banks' should also face greater transparency from regulators, including any attempts to shift newly-regulated activities to the "shadow banking" system. Shadow banking is a growing sector in which financial intermediaries, often loosely regulated, carry out similar activities to commercial banks.
Mr Barnier said: "Today's proposals are the final cogs in the wheel to complete the regulatory overhaul of the European banking system.
"This legislation deals with the small number of very large banks which otherwise might still be too-big-to-fail, too-costly-to save, too-complex-to-resolve."
He added: "The proposed measures will further strengthen financial stability and ensure taxpayers don't end up paying for the mistakes of banks."
Critics said the proposals failed to go far enough, splitting banks' investment and retail arms.
Sven Giegold, a German member of the European Parliament, said that the resulting law would be "bureaucratic and ineffective. Rather than saying certain types of business should be separated, there are loads of exceptions".