Asian stock markets stage relief rally after Turkey rate rise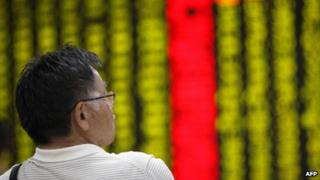 Asian stock markets have broken a four-day losing streak after Turkey's central bank agreed at an emergency meeting to raise interest rates.
Regional markets were also buoyed by China's decision to inject more funds into its financial system.
Investors have been rattled by concerns about slowing growth prospects in China and other developing economies.
Japan's Nikkei 225 index jumped 2.7%, Hong Kong's Hang Seng rose 1.1%, and South Korea's Kospi gained 1.2%.
Stock markets in Australia, Thailand and Indonesia also climbed on Wednesday.
Global markets have seen a rise in volatility following poor Chinese manufacturing data and a surprise move by Argentina to end support for its currency last week.
This caused a wave of selling in the currency and equity markets, with emerging markets such as Turkey and Indonesia being particularly hard hit.
However, investor sentiment was lifted after India unexpectedly raised interest rates on Tuesday.
Asian shares were also buoyed after Wall Street posted its first gains in four days due to strong corporate earning results from Pfizer and Comcast.
But contributing most to the positive mood was the decision by Turkey's central bank to raise key interest rates aggressively in order to stabilise the lira and control rising prices.
It hiked the benchmark overnight lending rate to 12% from 7.75% and the overnight borrowing rate to 8% from 3.5%.
More uncertainty?
Some analysts warn the relief rally may be short-lived given the markets faces more uncertainty from key events this week.
The US central bank is due to end its two-day policy meeting on Wednesday and they are expected to continue with their policy of gradually reducing their massive stimulus program known as quantitative easing.
Kelly Teoh, from IG Markets, said investors will be watching the Federal Reserve's post-meeting statement especially closely.
"The question on whether the Fed will continue to reduce stimulus by $10bn is mostly priced in," she said.
"It is accepted by the markets that the Fed will not want any more shocks in the market, thus the plan is to slowly take their foot off the pedal.
The statement of where they see the US economy, and any mention of the recent emerging markets vulnerability, will be what investors look out for," Ms Teoh said.