Barclays to cut hundreds of investment banking jobs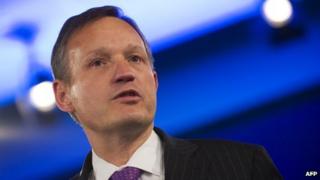 Barclays plans to cut hundreds of jobs in its investment banking division as part of a restructuring, it has confirmed to the BBC.
The job cuts come on top of 3,700 layoffs announced early last year.
Chief executive Antony Jenkins is also expected to unveil new five-year financial targets next month.
He has been looking to improve profitability in the face of falling trading revenues and tougher regulations.
Mr Jenkins, who took over from Bob Diamond following the Libor rate scandal, plans to cut £1.7bn ($2.8bn) from annual expenses by next year.
The London-based bank is also restricting international travel to "essential" external meetings, in an attempt to control expenses.
Branch closures?
The bank is also considering closing branches to reflect the fact that more customers are now accessing financial services online and via mobile devices, although it denied reports that it would close 400 branches.
Barclays is to release its annual results on 11 February, but a spokesman said: "We have no plans to announce significant reductions to our UK branch network.
"We have consistently been clear that, over time, there will be fewer traditional branches as we move to provide banking services to customers where and when they find it most convenient.
"However, the branch network will remain an important part of our banking service and we will never leave a community without the ability to transact."
In November, the bank announced a pilot project to close four UK branches and move staff and banking services to nearby Asda stores.
Bank branches in supermarkets are common the US.
Job cuts
Barclays' investment banking division employs about 25,000 of the bank's 140,000 global employees.
Up to 400 senior managers, mostly in London and New York, are expected to be made redundant.
Last year, Barclays announced 1,800 job cuts in corporate and investment banking and 1,900 in its European retail and business banking.
Many major banks have been undergoing structural shake-ups due to the impact of the weak global economy and changing regulatory environment.
Earlier this week, Lloyds Banking Group said it would terminate 1,080 jobs as part of a business overhaul announced in 2011.
Co-operative Bank also announced that it would shrink its branch network following a recent £1.5bn capital-raising exercise.
Mr Jenkins has been looking to reform some bank practices after Barclays was implicated in a series of scandals, including the manipulation of key interest rates.
The firm has since ended speculative trading in certain asset classes and reduced its investment banking pay.
During the earnings release next month, Mr Jenkins is expected to also lay out several objectives aimed at improving the bank's reputation.
This includes ways to restore public trust and increasing the number of woman in senior positions.
An earlier version of this story said Barclays had confirmed that it was closing 400 bank branches in the UK. The story has been changed since Barclays Head Office in London clarified its position.