Turkish central bank raises lending rate to 12%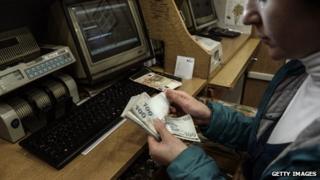 The Turkish central bank has raised its overnight lending rate to 12% from 7.75% after an emergency meeting.
It also increased the overnight borrowing rate to 8% from 3.5%.
The move was intended to help stabilise the value of the lira, which plunged in recent days amid ongoing turmoil across emerging markets.
The lira immediately strengthened after the central bank announcement, to 2.2 lira to the US dollar, from 2.253.
The Turkish central bank had been slow to act amid fears that a rate rise could hurt the economy.
In a statement, the bank said the move was intended to combat inflation, which reached 7.4% in December.
Global woes
The Turkish government has forecast that growth will pick up from an expected rate of 3.6% in 2013 to 4% for this year.
Those figures are sharply down from the 8% growth Turkey achieved in both 2010 and 2011.
The cost of Turkey's debt had also been rising rapidly with the price of 10-year bonds hitting a three-year high, as investors worried that a bribery scandal could destabilise the government.
The Turkish central bank hopes that by raising interest rates, investors will be drawn to place their funds in Turkish banks, which would help boost the value of the lira.
But Turkey is not the only emerging economy that has been hurt in recent days because of ongoing worries of a global slowdown.
Argentina and Ukraine have been working to stabilise their currencies in the face of investor nervousness.
And in the US, the Federal Reserve is expected to continue to withdraw its extraordinary stimulus measures at the end of a two-day meeting on Wednesday - which is also causing some concern in the markets.
Through a policy known as quantitative easing, the US central bank has been buying billions of dollars of long-term debt in an effort to keep interest rates low and stimulate the US economy.
But many investors fear that as this programme is drawn down, interest rates not just in the US but around the world could rise, and adversely impact emerging economies in particular.