First Porsche revealed to be an electric car from 1898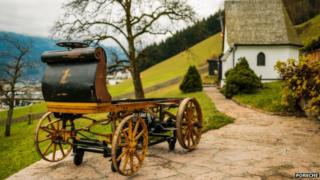 Luxury automaker Porsche has revealed the first car designed by its founder was electric, in a show at its museum in Stuttgart-Zuffenhausen, Germany.
Ferdinand Porsche's design was dubbed the Egger-Lohner electric vehicle C.2 Phaeton model, or the P1 for short.
The car, made in 1898, was recently unearthed in an Austrian garage, where it had been stored since 1902.
The 22-year-old Ferdinand Porsche, who would start Porsche in 1931, designed the P1 for carmaker Jacob Lohner.
After a trip to the US, Ludwig Lohner, the owner of that firm, became convinced that the age of the horse and carriage was ending, and he asked Ferdinand Porsche to come up with an electric drive train.
Ferdinand Porsche designed an "octagonal electric motor" that was powered by electric batteries and suspended amidst shock absorbers in the rear of the vehicle.
Using a complicated series of gears, the car was driven using a 12-speed controller, which had six forward gears, two reverse gears and four gears with which to brake the car.
The P1 took to the streets of Vienna, Austria, on 26 June 1898.
The P1 could reach speeds of up to 21mph (34km/h) and travel up to 49 miles on a single charge.
The car could be styled as an open-air chassis or a coupe.
The young Mr Porsche eventually entered the P1 in a Berlin road race, which took place on 28 September 1899.
Competitors had to travel a total of 24 miles with four passengers (including the driver).
The P1 beat out the other competitors handily, crossing the finish line a full 18 minutes before the next car.
In a detail that seems almost too good to be true, the P1 won another accolade: least amount of energy consumed.
The car is on display as part of an exhibition at the Porsche museum in Stuttgart-Zuffenhausen, Germany.